Looking for heat presses specific to hats?
If you're looking into heat pressing, chances are you're aware that a heat press machine is, simply, a piece of equipment that can be used to easily and securely transfer a design or image onto a substrate.
Heat presses are used widely across the fashion industry, with many major companies using this equipment to print onto a variety of items of clothing (such as t-shirts, shirts, blouses, skirts, trousers and more), as well as accessories (tote bags, in particularly, are a popular and easy product to heat press a design onto).
But some accessories are easier to heat press than others. An item that increasing numbers are growing interested in heat pressing, but are struggling to achieve desirable and profitable results from, is hats. Now, there are all sorts of hats out there and they're an item and accessory that there will always be demand for.
The majority of people own at least one hat. Heat pressing a hat can help to make your offerings stand out from the crowd in a saturated marketplace, offering customers stand out designs, or allowing you to create hats sporting your own established branding. If you're going to pursue this venture and are set on offering heat pressed hats with great designs, you're going to have to take a moment to learn a little more about how to heat press hats, as well as why and how a specialist hat heat press is likely to become a necessity for you and your company.
We'll guide you through this. We'll also provide you with a few product reviews of some popular heat press machines that you might want to consider investing in to make your dream of creating high quality hats for your customers a reality!
Why get a specific heat press for hats?
Now, when it comes to heat press machines for hats, many people will question why not use a standard multipurpose heat press rather than spending money on a very specific piece of equipment for a specific accessory.
The simple answer to this question is that hats are multi dimensional objects, rather than a flat piece of material. Most good quality hats will have rigid fabrics or components that make them difficult or impossible to print on effectively with a standard heat press.
On top of this, you may find that the hats you are working with have hard features – perhaps made from metals or plastics – that might not endure the pressure and heat of a standard press, which is designed to simply work with materials that are completely resistant to its heat.
A specialist heat press for your chosen design of hat will allow whatever hat you have chosen as your base to be printed on without your brand having to come to a  compromise on the quality or design of the final product. Chances are your business isn't only selling heat pressed hats as well.
You're probably printing on an array of merchandise that you're going to be offering your customers. Not only will have a hat press improve the overall quality of your final product when it comes to the hats you plan to provide, but having separate presses available for different product lines can help to speed up and simplify your manufacturing process.
You can have one person heat pressing a t-shirt on a standard press while another presses a hat with your specialist hat press!
What's the difference between a heat press for hats and a normal press?
When you first get involved in the textiles, fashion or accessories industries, you may be baffled by the sheer amount of products that people will recommend.
If there's a generalised product or piece of equipment that people require to create their own products, you can almost guarantee that there's a niche version of the product or piece of equipment targeted for use on very specific items. Sometimes they're different and worth the investment.
Sometimes, they'll essentially be the same product you already have, simply marketed in a different way – and you really don't need them to get by.
So, when it comes to heat presses, is there really much difference between a standard heat press and a heat press for hats? Put simply, the answer is yes. This becomes clear when you simply look at standard heat presses and then compare them to how heat presses for hats look.
A standard heat press will generally have a square or rectangular shape, consisting of a flat platen that will be pressed down on a flat piece of fabric and heat press the design onto it evenly. A hat heat press, on the other hand, will generally have a completely different shape to accommodate the shape of the hat you're printing on.
Rather than having flat platens, a hat heat press will usually have a curved one that will accommodate the curved design of a cap. There will be a pedestal to keep the cap in place while the platen is locked onto the hat to heat press the required design. You may find that hat heat presses are smaller than standard presses, as hats tend to be smaller than other items of clothing or bags. This can be convenient, as the press will use up less space in whatever space you're operating it within.
In terms of operation, hat heat presses use the same logic and technology as a standard press. They'll apply even, heated pressure down onto the item that you want to print on, transferring images or graphics to the material's substrate. The difference is just how the press is designed to ensure that the cap stays in place and to guarantee even coverage and a final print that you can be proud of!
Can I use a T-Shirt press for printing on hats?
Technically, you can use a T-shirt press to print on hats. So, if you're literally planning on heat pressing one hat – perhaps a project to create something for yourself, or a gift for a loved one – and already have a standard press in your possession, you should be able to get the job done. However, you can save yourself a whole lot of time and effort, and make the entire process a whole lot safer, by investing in a heat press machine that is specially designed for hats.
As we have already established, the specialist shape of a hat heat press (which has been specifically designed with the purpose of heat pressing on hats in mind) is going to yield much better results than fiddling about with a standard, flat, T-shirt press.
Using a standard process will require you to complete a lot more manoeuvring with your hands and this additional manual work will be extremely time consuming. You may also find that you find it difficult to distribute the heat well across a curved surface, leaving an uneven design, or resulting in parts of the design not taking to the fabric.
It may be a process of trial and error through a few hats before you get a result you're happy with. If you're planning on heat pressing multiple hats to sell, for the sake of business rather than pleasure, a hat heat press becomes an essential. You won't have the time or resources available to treat every single hat as a trial and error process, unsure as to whether each will turn out in a saleable condition.
The Best Heat Press Machines For Pressing Hats
Here are our.5 favourite presses for hats, caps, and those pesky types of fabrics that are otherwise difficult to press on (or at least ones you make struggle to get a good, permanent design on a t shirt press).
1. Hotronix Cap Heat Press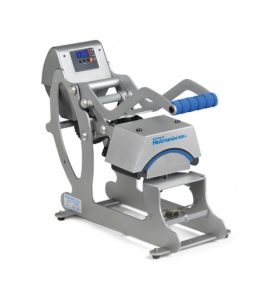 Features
So, if you're looking into producing heat pressed hats quickly and efficiently, let's take a moment to look at a few popular heat presses and how they can make a positive difference to you, your business and your profits. Let's start out with the Hotronix Cap Heat Press. As indicated by the name, this is a piece of equipment that is specially designed for heat printing on caps in particular. Now, caps are often a tricky accessory to print on. They're notorious within the fashion and textiles industries.
Their front panels, which tend to be sturdy and curved, can prove to be a nightmare to attempt to print on using a standard t-shirt press. Fortunately, if you're struggling with printing on caps, the Hotronix Cap Heat Press can come to your rescue. This is one of the higher-end presses we'll be focusing on in this list, coming in at $900, but it's got a great reputation to pair with the price.
When it comes to heat press machines in general, Hotronix are one of the best names in the business. They're industry leaders and many faithful users won't trust any other brand with their products. So, what has created this loyal following? Well, Hotronix has been around for a while. Established in the 1980s, the company originally set out with a goal to resolve problems they'd noticed people experiencing with popular heat presses of the time.
Hotronix wanted to create a product that would maintain consistent high temperatures and even pressure across the press plates, giving customers a better quality and more consistent finish than they'd been experiencing with other brands. At the same time, they wanted their products to remain a reasonable price so that the people they set out to help could actually benefit from their innovative design. It's safe to say that the company achieved their goal and have maintained this high standard ever since!
Nowadays, Hotronix machines are produced in the United States and are reliable and durable, providing top quality heat pressing with every single use. The Hotronix Cap Heat Press maintains this reputation. Its clamshell design is great for use in small workspaces, making this machine accessible and convenient for small business, as well as large ones.
But perhaps the most impressive feature on this machine is the way that the Auto Clam Cap Press opens up automatically once its heat transfer time is up. This prevents scorching of fabrics or over-application, giving great results with every press and reducing pressure on the machine's operator. This auto open feature also ties in the use of magnetic assist lock, which means you don't have to manually press down on the machine during the heat pressing process.
This means reduced physical pressure for you and your staff too. This truly is a press designed with the user in mind!
Pros:
Auto-open feature

Magnetic assist lock

Press to 120 PSI for heavy pressure applications
Cons:
Seams can cause a problem with this machine, as they create uneven pressure. It's recommended that you test over seams before committing to printing over them with this machine
Check Price
2. Digital Knight 4 x 7 Twin Cap Press
Features
Onto our second hat heat press – the Digital Knight 4 x 7 Twin Cap Press from Geo Knight. Now, Geo Knight has been around a lot longer than Hotronix. Originally founded in 1885 by George Knight, the company has been producing industrial presses and die cutting machinery for over one hundred years.
The past 50 years have seen the company focus largely on heat pressing machinery in particular. Their products are loved by thousands of people around the world and used by countless numbers of businesses looking to make a significant profit from the wares that these presses will help them to provide. When you buy from this brand, you can buy with confidence that you're dealing with specialists who have extensive expertise in producing the exact heat press product you may be looking for.
The Digital Knight 4 x 7 Twin Cap Press, again, is a press that is specially designed to heat press on caps in particular. This model, however, is ideal for people and businesses who are looking to produce heat pressed caps at a fast rate.
If you have a high volume of orders to fulfill, the option to press two caps at the same time can send productivity levels through the roof and make sure that you have all the caps you need off the production line, into packaging and shipped out to customers or stockists at record speeds. The head of this press can pivot smoothly and seamlessly from one side of the press to the other. This means that you can be actively pressing one cap while you set up the next on the vacant press.
The Digital Knight 4 x 7 Twin Cap Press also gives you a lot of choice and variety when it comes to pressing caps. If you're looking to expand your market beyond adults and into the realm of caps that fit children too, you can benefit from this model's interchangeable tables which accommodate smaller sized caps, as well as variants such as low profile caps, fitted caps and more.
Generally, this press will come with the standard sized table for you to be able to press standard sized caps, but other options are available and can be invested in if you deem them a profitable path to take. Even if you're only focusing on heat pressing standard sized caps at the moment, having the choice to add different tables down the line is extremely desirable, as it provides your business with more potential scope if you do decide to offer a wider variety of products down the line.
At $900, this press is at the more expensive end of the spectrum when it comes to the presses we'll be taking a look at today. But with the ability to produce almost twice as much as other presses in almost the same amount of time could make this press a very wise and sound investment.
Pros:
Designed with high level production in mind

Full digital temperature control

70 programmable presets
Cons:
Sits at the higher end of available presses in terms of price
Check Price
3. Stahls' MAXX Cap Heat Press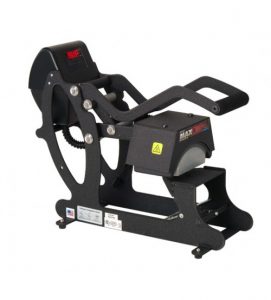 Features
Stahl's sit between Hotronix and Geo Knight in terms of longevity. Established in 1930 by Harry Stahl in Peabody, Massachusetts, this is another US based brand that's made a new for itself over the past century.
With the past 90 years, Stahl's managed to establish themselves during the Great Depression and still thrive, pulling through to make sales and maintain popularity for years to come. This business, that has long been rooted in the Stahl family values, has long thrived. But it's not just the family oriented stance and thinking that have seen this company experience success. It's the sheer quality of their products that has helped to keep the brand afloat and secure decades' worth of loyal customers.
The Maxx Cap Heat Press, in particular, makes heat pressing and printing on caps as easy a process as possible. Coming in at a lower cost than the other presses listed so far (an extremely reasonable $750), the company claims that this press can "speed up cap decorating while holding down costs" – which ticks pretty much any company's boxes. At the end of the day, efficiency is key to success in a world where time is money and lower costs mean bigger profit margins for you as a business owner!
This press, like the two we've listed before, also specialises in caps. However, this machine's perk is that it can deal with caps of all sizes. This maximises the amount of customers you can cater to, maximising your sales and making your brand as inclusive as possible. It is also extremely small in and of itself, with some referring to it as a "travel heat press" and Stahl's themselves alluding to this potential use. If you're shifting from one place to another, this small and lightweight option could be great for you! Alternatively, it will be ideal for work spaces where equipment frequently needs to be shifted about for whatever reason.
Pros:
Small and lightweight, ideal as a travel press

Designed to decorate caps of all sizes

Provides digital time, pressure and temperature readouts
Cons:
May be better used as a back up press if you're dealing with particularly large volumes of orders
Check Price
4. B-250D HIX Hat Press
Features
The B-250D HIX Hat Press shares the element of being a US-based brand with the companies supplying the models listed above. Their offices are based in the heart of the midwest (Pittsburgh, Kansas) and all of their products are created in the USA too! HIX don't have as long a history as some of the companies we've mentioned above, but they do have a huge number of users and clients to vouch for their professionalism and high quality products!
This company is a global manufacturer specialising in print and graphic transfer equipment of the highest quality. Their products are generally sold through distributors, meaning that their products are now being sold and marketed in over sixty countries!
The B-250D HIX Hat Press is highly adaptable. While it comes with a 3-⅞" x 5-⅞" heat platen, you can interchange this. There are also golf size platens (3" x 5-½") and youth size platens (2-¾" x 5-¼"). Want something even more specific? Hix are more than happy to create custom size platens for you too! This essentially makes the world your oyster when it comes to creating a wide variety of products for your customers and clients.
When it comes to operating the B-250D HIX Hat Press, you'll be pleased to find that it's simple – a delight. The machine comes with an easy open and close handle, reducing physical pressure required to operate it.
It also has a countdown timer on the read out. It will beep when the set time has elapsed, meaning you will be alerted when you need to remove the hat from the press – which is great for those of us who can easily become distracted, or who may simply want to start working on something else while the heat press gets to work. The timer resets automatically as soon as you open the press, which is great in regards to ease and convenience. Anything automated tends to be a pro when it comes to equipment for your business.
If you find that your caps often shift when you try to heat press them, you'll also be highly delighted by the B-250D's transfer hold down blanket, which prevents unwanted shifting, which can ruin designs and final products.
At $715, this is a mid-range to higher range press that you might want to invest in for your business. But its flexibility and malleability when it comes to the range that it can offer you could really make this product more than worth your investment!
Pros:
Portability – this is a small and relatively lightweight heat press, making it ideal for travel when necessary

Innovative bottom cap hold down

Digital timer shows countdown on read out
Cons:
Having plenty of platens is a pro, but you do need to remember to make sure you're using the right platen before heat pressing – otherwise you could have low quality results that are unsellable and consequently waste stock
Check Price
5. Digital Knight 4 x 7 Cap Press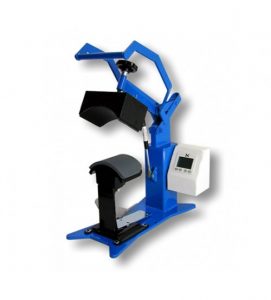 Features
If you're thinking that the name "Digital Knight 4 x 7 Cap Press" sounds familiar, it's because we reviewed the "Digital Knight 4 x 7 Twin Cap Press" just above! Now, like the Digital Knight 4 x 7 Twin Cap Press, the Digital Knight 4 x 7 Cap Press is produced by Geo Knight, which means you can expect great quality from the product you'll receive. So, what is the difference between these two listed presses?
Well, really, the only difference is that one is a single cap press, while the other is a twin cap press. While the Digital Knight 4 x 7 Twin Cap Press allows you to heat press one hat while you set up and prepare the other on another pedestal, this model only has one pedestal, meaning you can only work on or set up one hat at a time.
Now, this may sound like a negative. We've really emphasised the value that comes with the Twin Cap Press' design for high production and efficiency above. But if you're a startup, or a company that simply produces caps as a sideline product, rather than your main line of products, this heat press could prove to be a lot better.
First of all, it's significantly cheaper. This model comes in at just $595, making it the cheapest option out of all of the presses we've reviewed here. Low investment means that you won't have to sell as many caps to cover the investment in the equipment, helping to maximise profit margins once you've covered its cost. If you're not planning on producing huge volumes of caps, one pedestal really probably is enough.
There are other perks that come with this press too. It can heat press print onto the face of any size of cap. This, as we've highlighted in other models, increases your potential customer base and allows you to cater to more individuals, consequently increasing your chances of making a sale. It's also simple to use. It has a self-lifting gas spring, a wide opening and a cap hold-down device, which reduces the amount of physical effort it will take you or your employees to operate the press.
Pros:
Cheaper than the Digital Knight 4 x 7 Twin Cap Press

Better for smaller companies with lower production

70 programmable presets
Cons:
The Digital Knight 4 x 7 Twin Cap Press could be a better investment if you hope to progress and can see demand picking up in the future
Check Price
Conclusion
Heat pressed hats really can hold a lot of potential for your business. At the end of the day, hats are an accessory that are always in demand. They don't tend to come into and fall out of fashion as many other accessories are likely to. F
inding the right heat press machine really can make all the difference when it comes to maximising sales and your profits. They will allow you to place signature designs or your own branding onto hats of your choice, creating desirable products that can generate your business a lot of money. Hopefully, the above information has helped to guide you through some of the basics when it comes to heat pressing hats, as well as giving you some insight into some of the most popular models of hat heat press on the market right now. At the end of the day, only you know which press will best suit your business' unique needs.
But taking a moment to read through the reviews we've written up should help to clear up which press will tick all of your boxes and which could leave you wanting. Once you've settled on the best press for you, it won't be long before your hats are flying hot off the press and you'll be making sales!