How do you decide on the best heat press for you?
Like starting any business or hobby, you're going to have to make the right decision about the types of equipment you purchase. You don't want to spend too much money incase you don't take to the practice, however if you do, you don't want to be stuck with a sub-par machine.
Before we get into the full list, if you're literally here just to look at the overall winner of this guide then it simply has to be the Cricut Easy Press 2. It's simple, storable, shockingly easy to use… And doesn't cost a fortune for anyone new to pressing who doesn't want to make a significant investment in a machine or piece of equipment.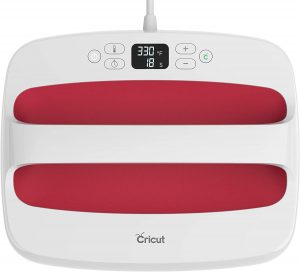 Check Price
This is completely the same in the world of the heat press. With thousands of machines on the market, how dod you now, as a beginner, what the right machine is for you?
We've put together this guide for people who may be starting a t-shirt printing business, a streetwear brand, looking to brand merchandise for their business, or have simply been wondering what heat pressing is all about.
Below you'll find our top 20 presses for beginners, and the types of questions we're asked. We've also included hint and tips along the way, to help you make an informed decision on the type of press that's right for you. For further information you can also see our guide to the overall best heat press machines, period. But enough about that for now.
What makes a machine the 'best' heat press? 
Personally, I look for price and usability. When it comes to beginners, you're a) not going to want to spend a fortune and b) you're not going to want something overly complicated. The machines in this guide are compact, easy to use, and won't require you to read a 50 page how-to manual in order to get started. 
Note – This information was last updated in March 2022 to reflect new heat presses, prices, and what constitutes as a beginner's heat press. 
Let's get to it.
Our top 20 beginners heat press selections
1. FancierStudio Digital Power Heat Press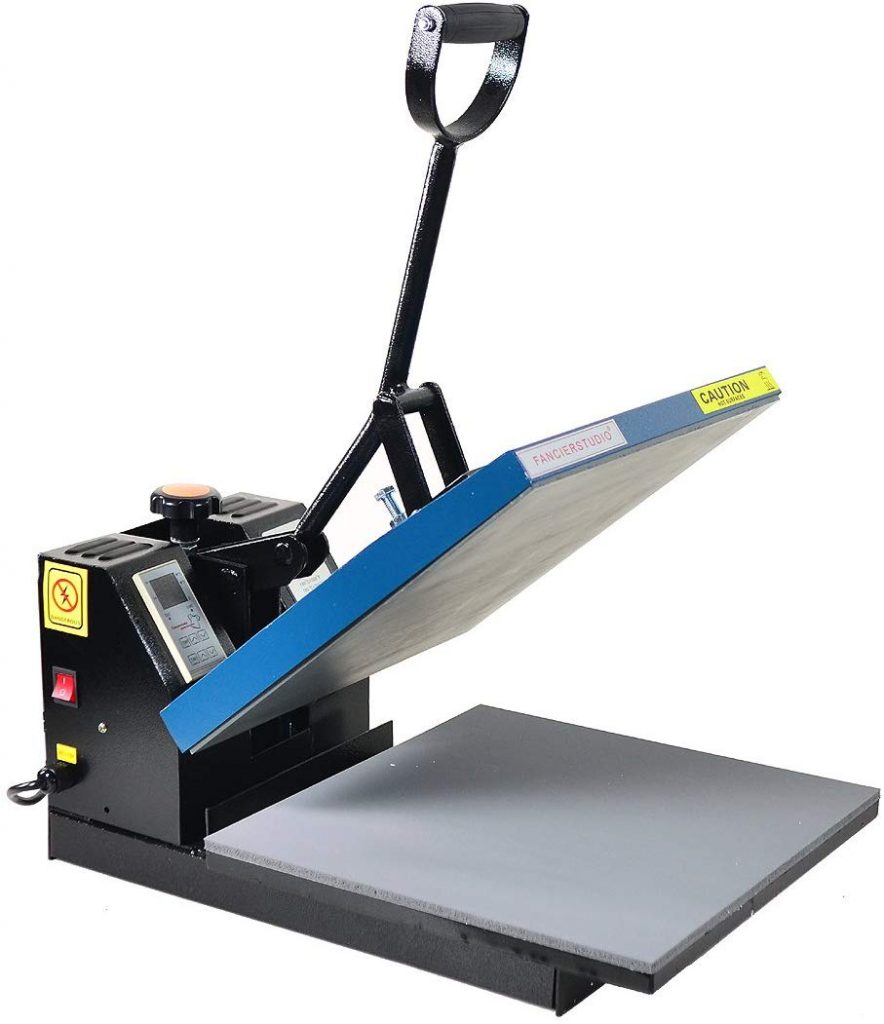 The FancierStudio 15×15 Digital Power Press Machine is excellent for both home and craft usage. If you're looking for a simple press to make t-shirts or print onto clothes for friends and family, then you have chosen a good one. With industrial quality and simple design, the FancierStudio Digital Power Heat Press is one of the best heat press for beginners options on the market today.
This is a press that has coated sheets and coating on the heat plate, and this makes it stand out from other options out there. The silicon rubber base is not glued down and it's excellent for applying letters, numbers and other images on a t-shirt and other materials.

The accurate timer and heat control feature of this model is what is making it so popular with buyers, as these prevent sticking and scorching during use. It's competitively priced and easy to use, and you can transfer onto a variety of materials, making it a versatile product to use. You can even change the pressure of the heat plate for different thicknesses.
Like any product that undergoes a lot of use, it won't last forever. However, forever isn't now and it's a clever option when you're shopping for a reliable heat press.

Check Price
Full Review
2. Super Deal PRO 12″ X 10″ Digital Swing Away Heat Press
If you are looking for an easy to use, safe and affordable heat press machine, you could look twice at this one. It's got everything that beginners need for the perfect heat press. You won't have to think about using this one too hard – it's got an easy swing-away arm to keep you safe!
The safety features of this one are a reassurance for the newbie to heat press machines, and you won't have to stock up on the burn salve, either.
The price of the Super Deal PRO means that you have one of the best heat presses for beginners without investing too much cash before you're sure. You may not be starting a business yet; perhaps you want to make some tote bags and t-shirts for friends and family.
Either way, the Super Deal PRO might be exactly what you're looking for. Any image can be transferred onto any material, and you can even use plates to transfer images to with this heat press machine. 
It can be an effective machine to work with but it has had some complaints regarding breakdowns and the quality of materials used.

Check Price
Full Review
3. VEVOR 5-in-1 Heat Press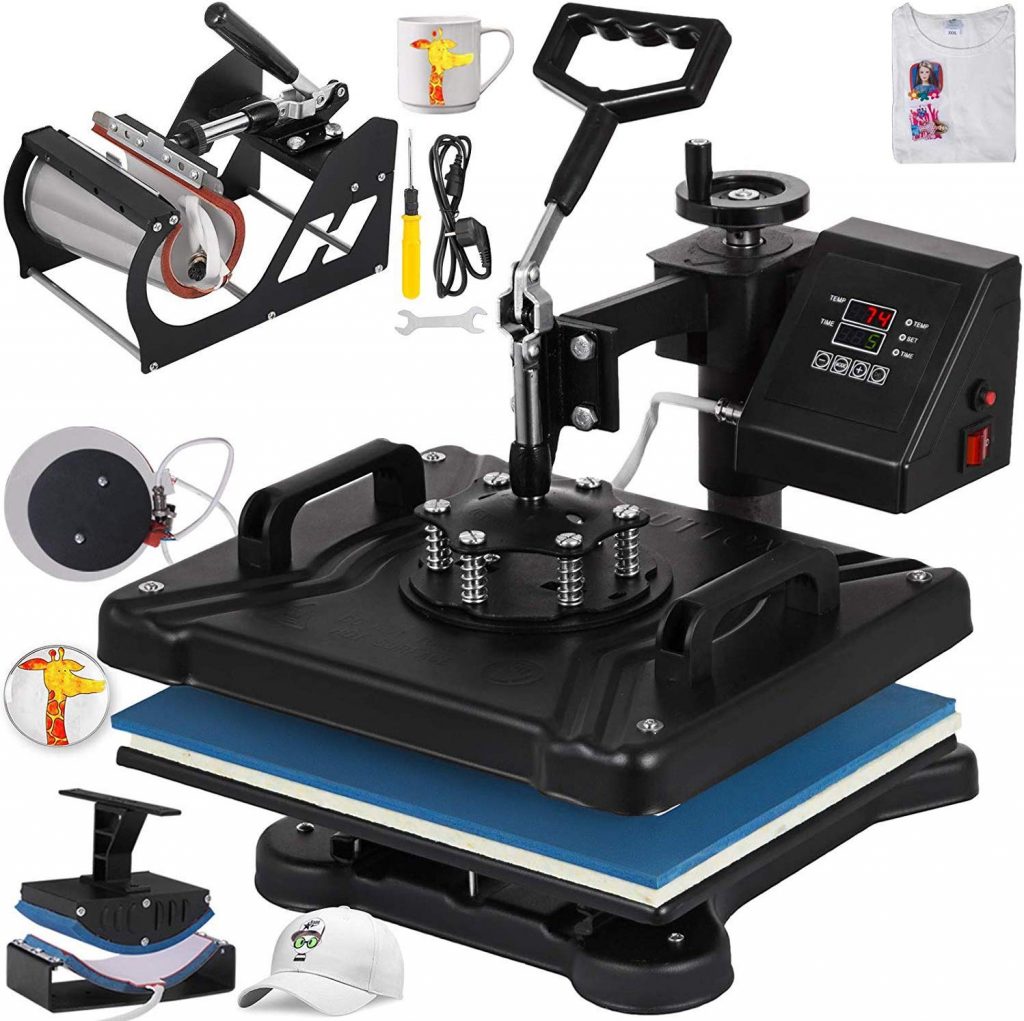 When you are looking for a heat press machine that is friendly on the budget, you need to take a look at the VEVOR 5 in 1 Heat Press Machine. The multifunctional machine allows you to print on multiple materials, but what makes it different is that it comes with attachment heat platens along with the attachment press.
So, you can use it for mugs, cups, plates and caps as well as t-shirts! So, crafters who want to expand their creativity beyond t-shirts will get the chance to with this heat press machine.
You can save space with this cost-effective heat press machine, and you can create as many graphics as you like, too, as it comes with different heating elements. This makes it a versatile heat press option.
The swing-away arm gives you assurances on your safety and less of a worry surrounding burns, and you can use the adjustable pressure settings to your advantage, too. 
You can get high quality results and it's durability can withstand a lot of wear and tear. Lastly? The price tag for this heat press for beginners is an attractive one!

Check Price
Full Review
4. PowerPress Industrial Quality Heat Press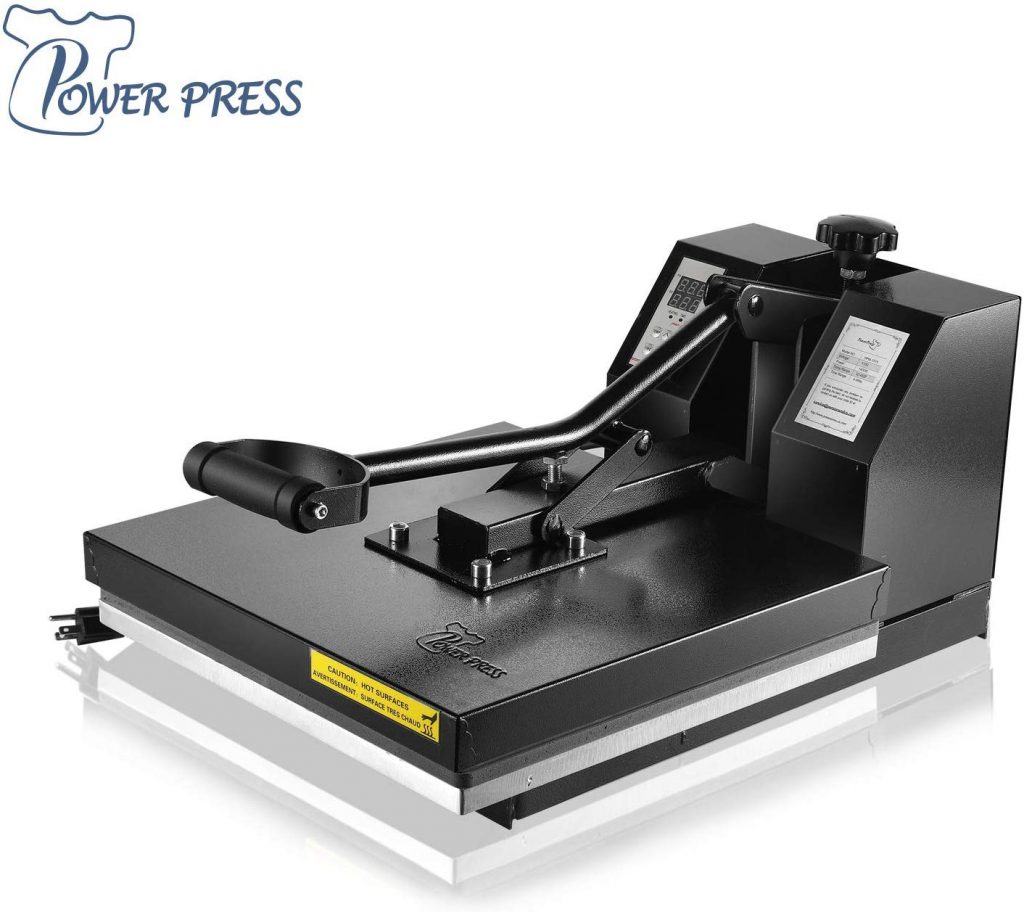 The PowerPress Industrial Quality Heat Press is a product that has everything that you need to create excellent transfers, with the additional feature of extra safety.
The most unique feature about this choice of heat press for beginners is that it is the only brand offering safety insurance to its customers. It's automatically an attractive option for those who worry about burns during use!
People buy heat press machines to make as many personalised items as possible, whether for friends and family or in the need for a business. PowerPress stands out as a heat press that remains affordable in price while also being safe, and the price is one of the main reasons that people choose this press. It's affordable for casual users as well as business owners, and it has the capability to handle intense transfers. It has a unique feature in that you can apply vinyl transfers really quickly.
This allows users to get through large projects in a short amount of time, making this one of the most efficient heat press options for beginners. 
This is one of the best heat press options for handling commercial projects, and it's definitely worth looking at!

Check Price
Full Review
5. Transfer Crafts T-Shirt Heat Press
It doesn't matter whether you're new to using a heat press, or you're a dab hand at making t-shirts and want to start a business; you need to look at heat press machines that are durable, easy to use and cost-effective.
With the Transfer Crafts T-Shirt Heat Press, this is what you get. This is a versatile and sturdy machine to use. The extra safety features are a bonus, and it's perfect for crafters at the beginning of their journey! 
The biggest features that stand out with this heat press is the fact that it's both reliable and affordable. People often feel sceptical about affordable heat press machines, but it gets the job done, which is what you're looking for! You will find that you get excellent results with this heat press, and it's made of sturdy metal – there is nothing flimsy about this machine!
This will continue to produce high quality products with excellent transferring for a long time, and you won't need to keep replacing it through wear and tear. It is definitely an option that you should want to check out!
6. PlanetFlame Industrial Quality CE Panel
If you are a crafter or a professional looking out for the best heat presses for beginners, the PlanetFlame Industrial Quality heat press could be a great option. It's an affordable and durable heat press that transfers high-quality graphics with ease. You get the features that you need to deliver a professional transfer, without the professional price.
The clamshell-style heat press gives an open upper heat platen, and this then means that the lower surface is accessible. You can then press the material that you're transferring onto really easily! The longer grip handle also gives you a more comfortable use, it's also what's making it much safer to use, too!
This is a heat press that can reach very high temperatures of up to 750 degrees F, and this is a lot hotter than some other models. There is a good focus on safety with this heat press, as the built-in fuse prevents damage and improves safety. 
This is an industrial-grade heat press, so you're going to get some high-quality results nice and quickly, and it won't put you over your budget. This heat press offers you a high-quality result without breaking the bank, and its durability makes it well worth the affordable cost.

Check Price
Full Review
7. Royal Heat Press
You want a heat press that's going to heat up quickly so that you can get on with your project, and the RoyalPress does just that! This aluminium heating plate has a Teflon coating to prevent scratching, and it measures in at 12" x 15", which is slightly narrower than other RoyalPress offerings.
The surface is, however, big enough surface so that you can create your own custom t-shirts. The heating plate is different from other models as it has been especially thickened to improve the printing. It certainly has done the trick, with all transferred images looking professional and transferring fast. 
This heat press has a full 360-degree rotation with a swing-away arm. This is done for safety purposes and prevents the user burning themselves on the press. At the price you'll pay, you'll get a great heat press that works exactly the way that you want.
It's easy to use the attachments that come with the heat press, so you can press onto things other than t-shirts. You can let your inner creative out with the RoyalPress Heat Press, and you can certainly work on improving your technique, too! 

Check Price
Full Review
8. F2C Pro 5-in-1 Combo Heat Press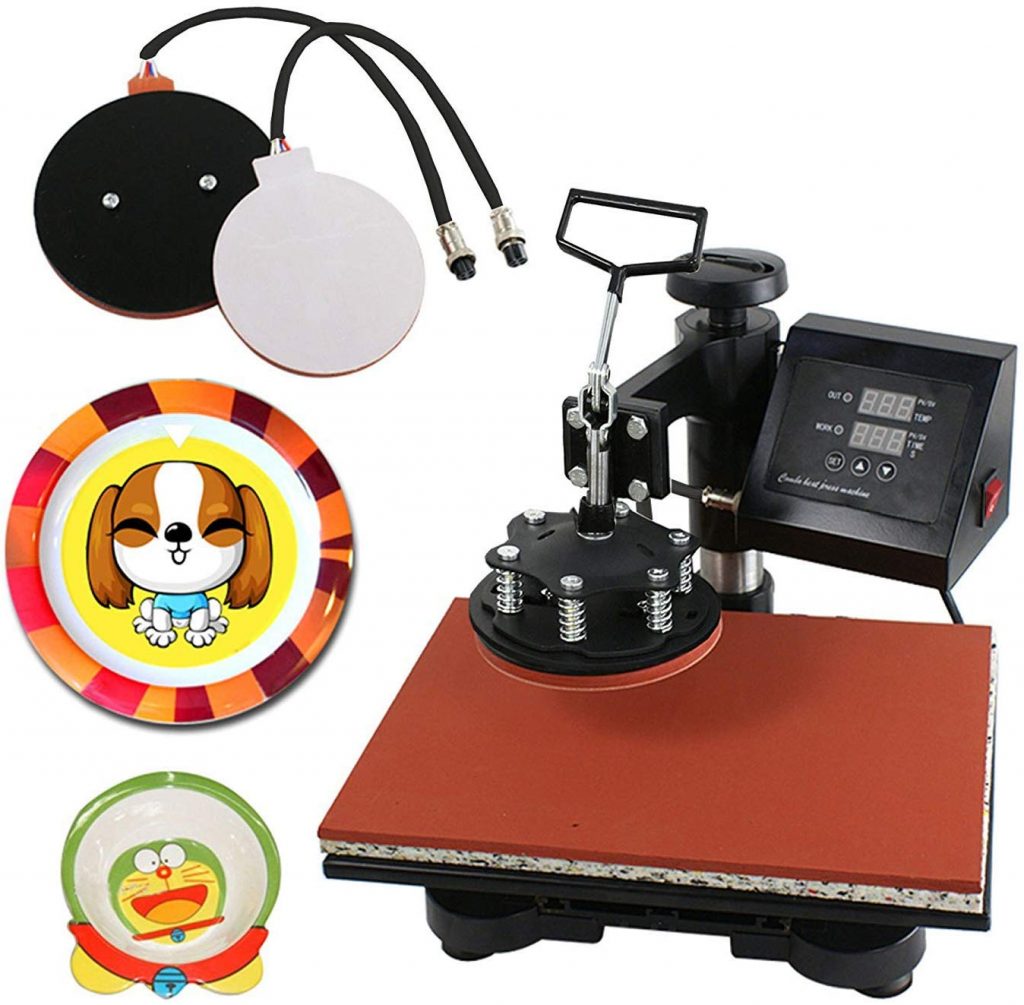 When you buy a F2C Pro 5-in-1 heat press machine, you will notice right away that it works with a huge range of materials and a variety of objects. There is a 360-degree swing design which is just perfect for the larger projects that you have to handle.
The F2C Pro has a transfer pad that is oversized, which gives you the chance to create transfers for your shirts that you'll love. It can cover t-shirts of all sizes, which gives you the chance to create and sell – just like that! The pad on the heat press is non-stick, which is super helpful if you want to avoid scorching and sticking.
There is an LCD display on the front of the heat press, which offers you a good amount of visibility for temperature readings. This is a heat press with a wide range of attachments, giving it a lot to offer its users. In fact, you can expand how it operates based on the extra pieces!
With a simple design, it's a great choice whether you're an experienced user or not. The price is right with this heat press, so you won't be disappointed in all it has to offer you.

Check Price Full Review
9. Cricut EasyPress Mini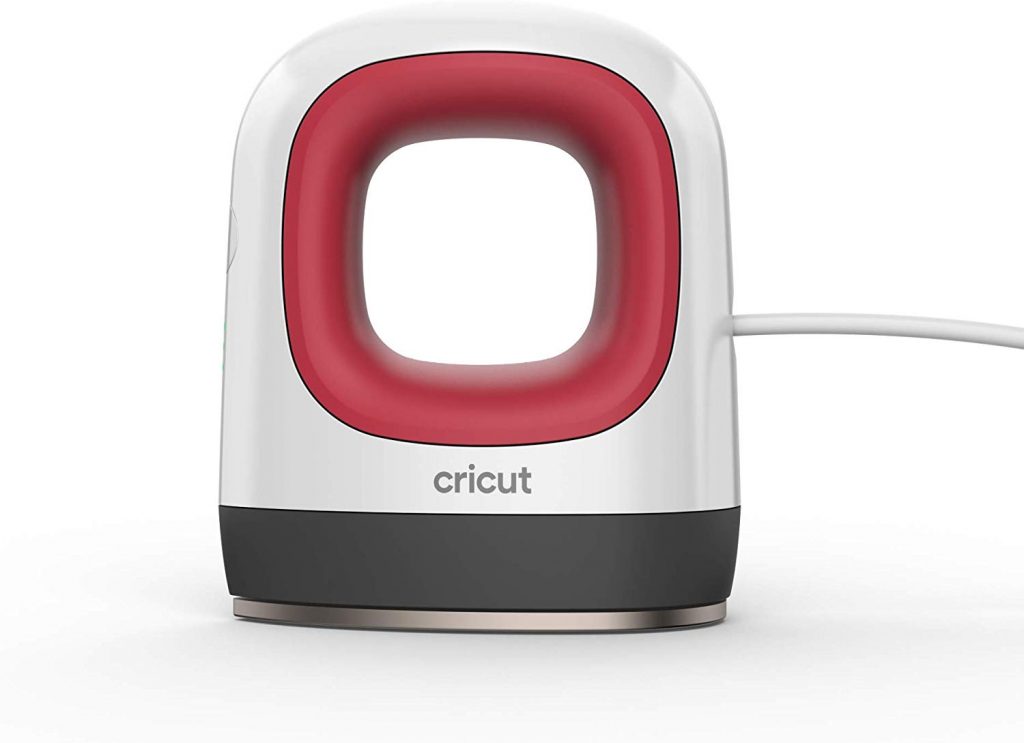 For the crafter who needs something smaller and daintier – but with just as much power – the Cricut EasyPress Mini delivers! It's actually a part of the EasyPress line, and the Mini is far more versatile than the other options.
Be aware that this is a specialist item, so you need to know how much you plan to use it before you spend your cash! It's far easier to use than an iron, and it's as effective as the traditional press despite the size.
Many people mistake the size of the EasyPress Mini heat press machine as a bad thing – it's not. Instead of holding you back from the projects that you can use it for, it'll open you up to tons more projects, allowing you to diversify into smaller project areas.
Given the small plate size, the heating across it is even and allows for an intuitive contour – buttons are no longer a problem and you can avoid the tricky spaces when you are pressing down on your transfer.
This is a sophisticated machine that is safe to use, and it will show you that there is a whole new way to do transfer with vinyls.

Check Price Full Review
10. VivoHome 5-in-1 Swing-Away Clamshell Heat Press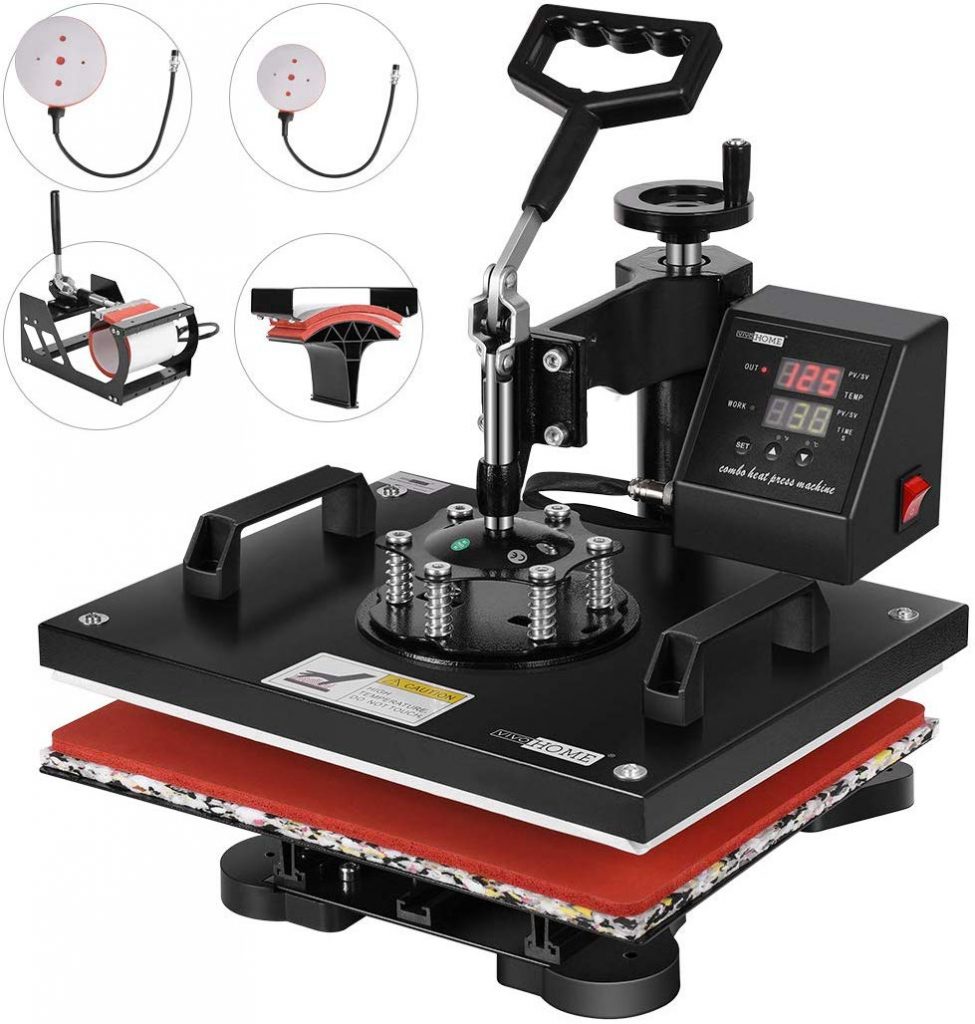 The VivoHome Heat Press Machine is one of the market that will help you to print the designs that you want on a variety of surfaces. It's got industrial strength steel frames which make it exceptionally durable.
As a heat press, it's a versatile product and as the plate is 15 x 12 inches, the working area i more than big enough to hold the items you want to transfer onto. With a 360-degree rotation, this is a machine that provides safety with even heating for transfer.
You want your finished transfers to look even, flat and without ripples or scorching. The VivoHome provides you with exactly that! With a dual integrated digital LED display, you can choose the temperature and set the countdown timer, with a display that shows you the temperature in either Celsius or Fahrenheit. The heating plate is made of die-cast aluminum, and it's got a coated Teflon surface, which is perfect to prevent slips and scorches.
This is a heat press that allows you to apply transfers of any type onto t-shirts, mugs, jigsaws, and beyond. The versatility in styles and materials is a good place to start with the best heat presses for beginners, and the VivoHome 5-in-1 is a good option.

Check Price Full Review
11. Cricut EasyPress 2
If there is one thing that you could say about this heat press is that it's compact – but this is not a bad thing. Not only is it one of the smaller heat presses on the market, it's an extremely user-friendly device that heats up to 400 degrees Fahrenheit!
This gives you an excellent amount of flexibility to work with all material types, which is perfect if you're diversifying beyond t-shirts. Cricut are concerned with safety, which is why they place a high importance on this compared to many other heat presses. Safety while using something that has an extremely high heat is important!
There is a feature that comes with this EasyPress 2 and that's the Auto-Off feature. It is a brilliant idea to prevent accidents and it can give you more confidence when you use it, knowing that it will turn itself off after ten minutes.
One of the best things about this heat press is the ability to adjust the heat as much as you want, and it's easy to do! You can interact easily with the digital display, too!


Check Price Full Review
12. Weanas Easy Heat Press Machine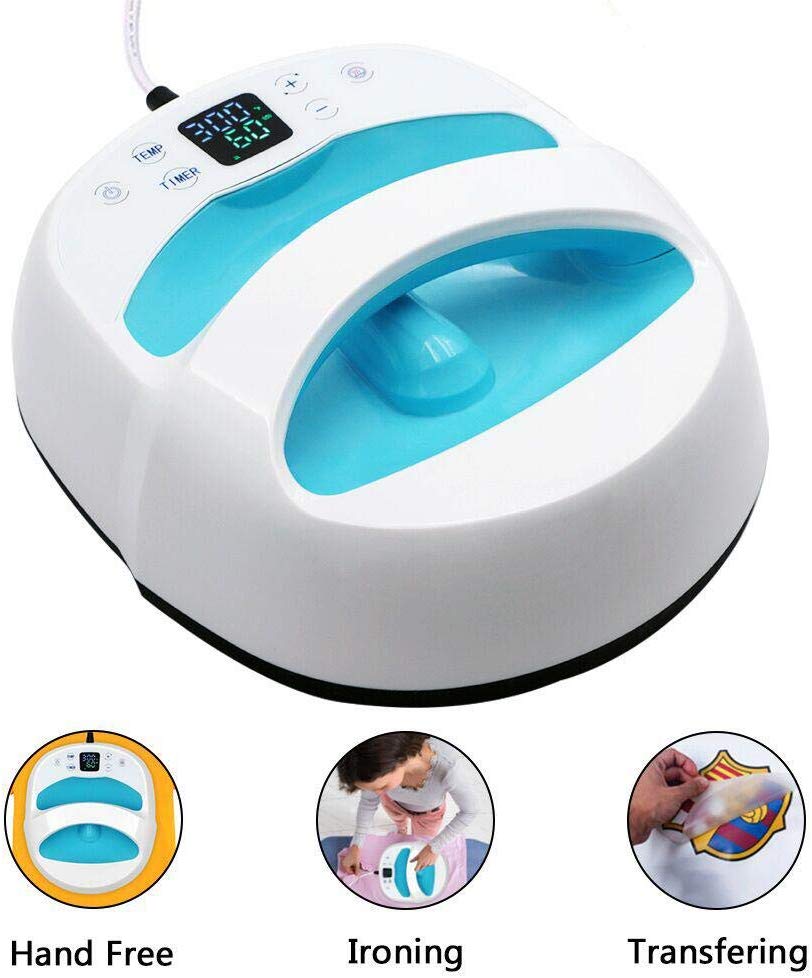 The Weanas Easy Heat Press has a digital swing-arm, making it one of the easiest and safest options for a heat press for beginners. It can transfer onto fabric, metal, wood, glass and ceramic, which really improves your scope for what products you can offer.
There are no limits except your own imagination! The silicone pad is removable and with a thick heating board, you can direct pressure straight down, applying it evenly! 
The heat plate is quite large and this gives you the space that you need for a variety of transfer work. The Weanas Easy Heat Press has bigger advantages than most of the heat presses for beginners in that it's hands free! You can set the time and temperature, and you then don't have to press down and apply pressure all the time.
This is still safe to do, so don't worry – it comes with a safe anti-overheating system, with three layers of heat-resistant construction which prevents melting and burning on the outer casing. It can work as an iron in the home too, which offers dual use and is light and stylish.


Check Price Full Review
13. 8-in-1 Digital Heat Press Machine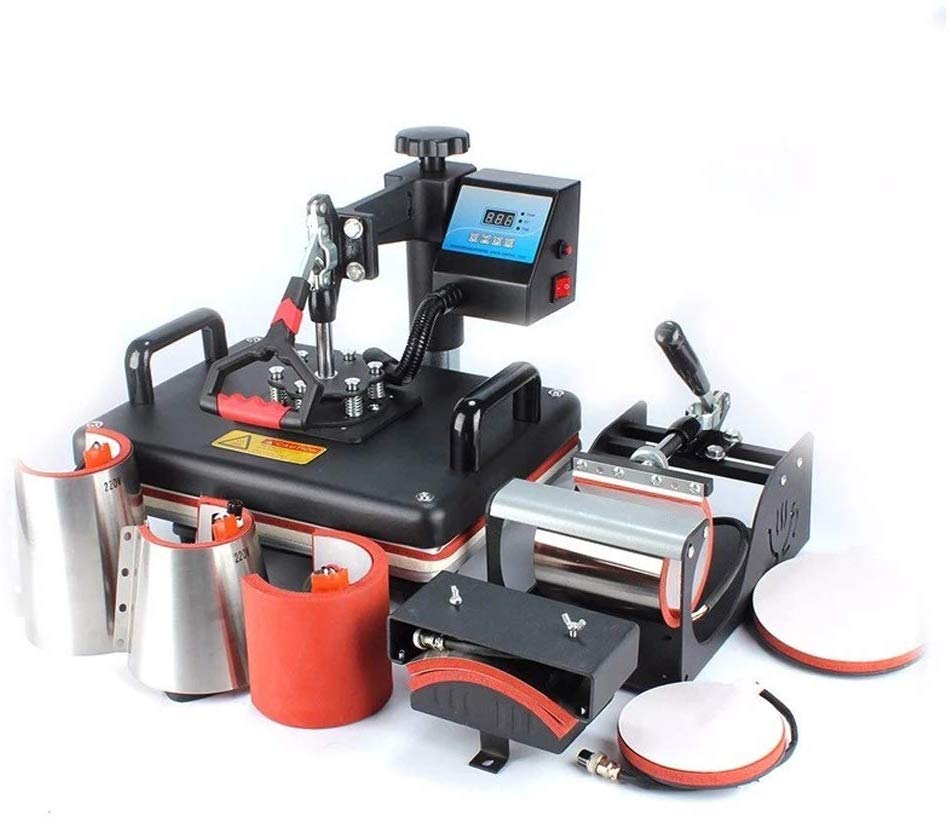 When you're looking for multi-functional heat presses for beginners, this 8-in-1 option could be the best thing that you buy this year. This heat press can transfer pictures and logos onto t-shirts, caps, plates, mugs and even jigsaw puzzles.
No matter the fabric or the material, this heat press is a great option for transfer. The heat press plate is a large one at 12" by 15", and it provides an excellent surface to create your own custom t-shirt.
The surface of it is non-stick, which helps when it comes to sticking and scorching. There are six total functions on this heat press, which makes it a versatile heat press to use for your needs. The alloy cradle that it comes with makes it easy to transfer to mugs and rounded products.
This is a heat transfer machine boasts every feature that a state of the art industrial system has. Sturdy and well made, you won't have to worry about whether it needs replacing: this is a system that lasts!
The machine is one that performs exceptionally well, and is the perfect option for when you want to start your own printing business. Don't overlook this option – have faith in the investment.


Check Price Full Review
14. PowerPress HPM-0000 PK Heat Press
There are so many options on the market when it comes to heat press machines, and this can make the entire hunt for a good one a bit of a nightmare! However, while it;s easy to be intimidated by the huge options, have a think about the PowerPress HPM-0000-PK. It's a smaller heat press than most, but that doesn't mean it's not as mighty as the others! With this heat press, you can press the items that you want with a compact machine.
It's very easy to use, with a simple setup, and it heats where you need it to for excellent transfers. It's a portable option, which makes it excellent for beginners who are trying their craft for the first time.
There are large plates on this portable and versatile PowerPress, so it's got more than enough space for whatever you want to press onto. You get the ability to channel a variety of projects, too, because of the fact it's big enough to transfer onto. 
It's big enough to tackle the projects you want to tackle, but it's not so big you feel overwhelmed by the size. Beginners won't have a problem figuring it out, and there's no real assembly required.


Check Price Full Review
15. SmarketBuy Heat Press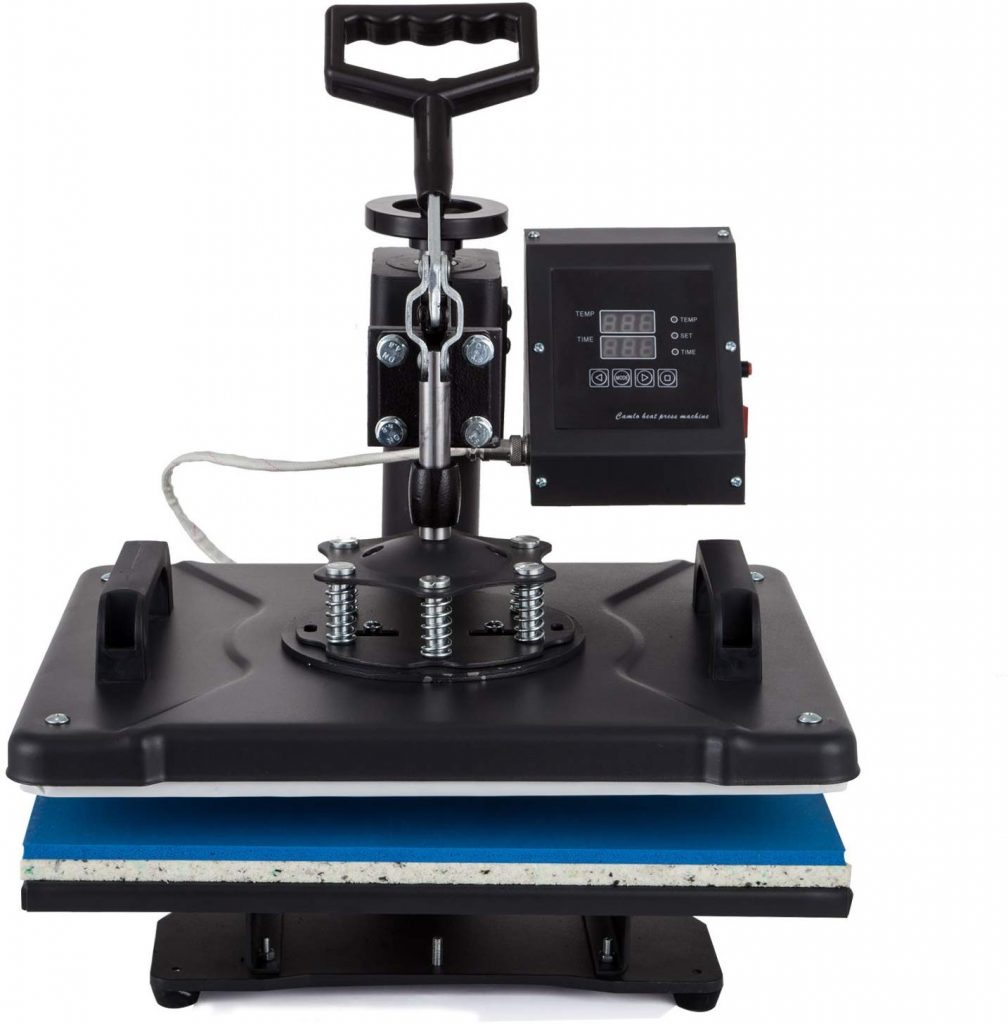 This SmarketBuy Heat Press Machine is one that offers timer control and an excellent temperature range for all heat press transfers. It has an LED controller, too, which can be used to set both the time and temperature for your transfer to complete.
Once the present temperature is reached, the heat will switch off and the alarm will go off to let you know when the timer is done – which enables you to let go and allow it to do its job. The Teflon coating on the heat plate prevents stickiness and scorchings, and you can protect your product, your vinyl and iron while it's working. The Teflon plate is heat resistant and easy to clean, too, which allows it to be more steady while it prints.
This is a heat press machine which can adopt a full 360-degree rotation and the swing-away arm allows you to move the heat away from you before you move your product.
Whether you are making t-shirts, ceramics, mugs or more, you can transfer excellent quality pictures and characters onto any surface. You can create as much as you like, as this is a time-resistant machine that lasts!


Check Price Full Review
16. TUSY Digital Heat Press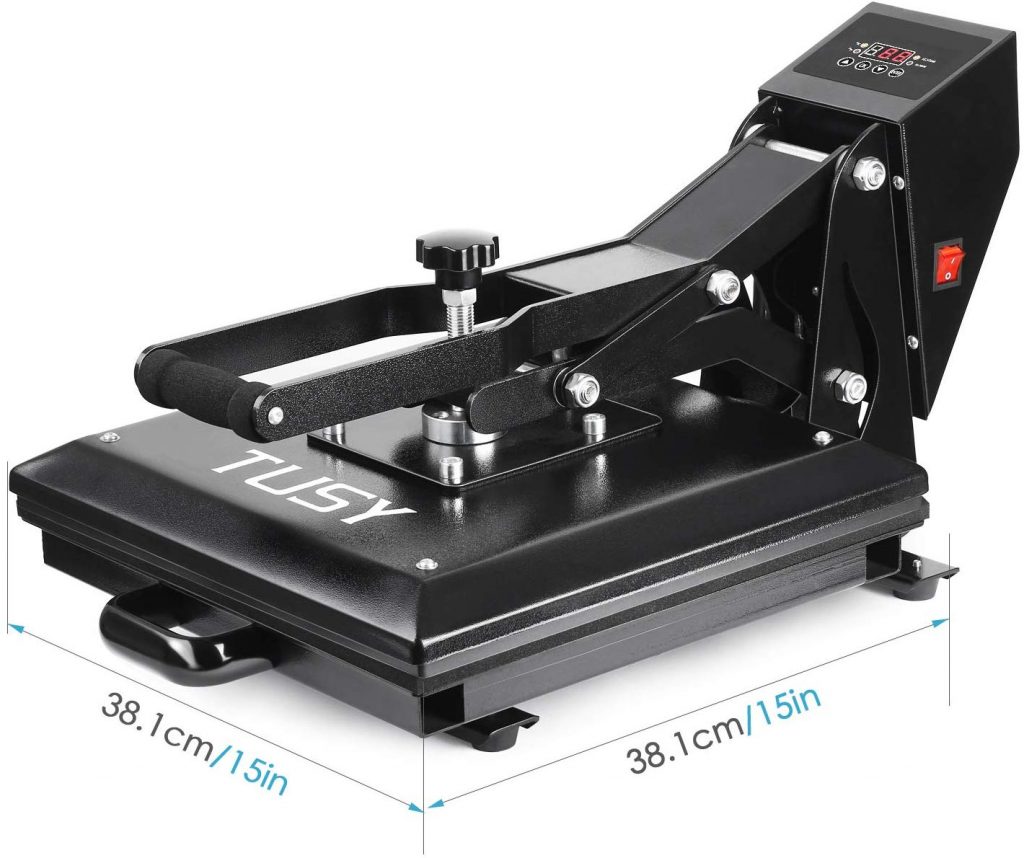 This 15×15 heat press machine is great for both industrial and home use, and the thing that sets this heat press aside from everything else is the high quality design. The size of the plate allows for transfers onto larger surfaces, which ensures that you get the t-shirts that you want. The Teflon coating prevents scratches and sticking, though it's clamshell style, which means that you need to be extra careful that you don't touch it. No burns, please! 
This heat press is built to last, and this means that you can get the job done fast. The largest projects can be easily managed by the TUSY, and as it's well-known for high quality transfers, you'll be right at home with professional items. The best thing about it is that it's ready for use right out of the box.
The manual is easy, but there is no need for assembly instructions as it's already done for you. The temperature and pressure adjustment are the main things to know, and you can use a number of materials available online for the perfect transfers. When it comes to heat presses for beginners, this is a great option to start out with.


Check Price Full Review
17. EOSAGA Heat Press
The 5-in-1 multi-functional heat press brings your imagination to life. You can transfer pictures and logos onto almost every material, as long as it fits any of the five provided templates. This can be anything from t-shirts and bags to plates and mugs.
For beginners in the market for a heat press that does it all, this is one to watch. The 360-degree swing-away arm has the ability to provide direct pressure evenly, which is why the finish can be improved. With the latest in digital temperatures and timers, the LCD display shows the exact time and temperature that you need for your transfers to be successful ones. 
This heat press is made with aluminium, and it's weight lightened which means that it can move easily with the provided handle. It's easy to operate, and you can use the attachments to make five separate mugs at once should you want to. It's a very efficient machine, and it's got an adjustable press that allows you to have mugs of 11-15oz at a time.
High volume pressing is so much simpler with the five-piece mug transfer kit that you get. It's an excellent, versatile option for all.


Check Price
18. CO-Z 100V Heat Press Machine
If there is one feature that you will love about the CO-Z 100V Heat Press it's that it's all about your safety. It's been certified by the CE and FCC which gives you a quality guarantee on this heat press machine. There is a built-in alarm, too, for safe operation that will alert you to when your heat transfers are finished.
There is an anti-skid handle on this heat press, made with yellow rubber is there for easy transition and comfort. You can find that this has a 26-degree swivel arm that helps to direct pressure down and evenly. This ensures a high-quality transfer to all materials.
This heat press does get hotter than other options, with a 500-degree Fahrenheit limit. You need to always watch for the swivel arm, here, as you don't want it to swing at you and burn you on the way. You can convert to Celsius, if Fahrenheit doesn't work for you, too.
This makes this a versatile and easy to use heat press for people from around the globe. The company offers excellent customer service offers, replacing and repairing the machine as needed.


Check Price
19. Ridgeyard Digital Clamshell Heat Press
The Ridgeyard Digital Clamshell Heat Press has a heating plate of 12×15, which makes it the best option for t-shirts, onesies and towels – even hats and ceramics are easily made on this heat press. You can even heat transfer to mugs with this heat press, within thirty seconds you can have the image that you want on your item. You don't have to go back to using an iron when you've discovered the Ridgeyard. 
Within about two minutes, this heat press warms right up, and you can get so much done with such a short warm up time. When it's still on, this device beeps to tell you that it's still hot and working. Which is excellent for those who need a warning if there are children around! The beep itself can get annoying, but it's better to have it and know you need to shut off the machine than leave it hot.
This heat press is solid, heavy and does not move. The arm swings away from you to prevent burns, and you can adjust a piece under it easily without hurting yourself. A steady heat press for those who need it!


Check Price
20. BAHOM Heat Press Machine
If you want convenience, then the BAHOM heat press machine that comes fully assembled is a good way to go. You can find it to be equipped with the latest LED temperature and time controllers, and this just makes life easy for you when you need to get on with setting up the next piece.
There is an audible alarm on it, which will tell you when the correct temperature is reached. There is a top mounted pressure knob which means that you can adjust the heating as you need to, and you can even adjust the pressure. This makes it easy to change up the material that you are working on.
Whether you are applying numbers, letters or images onto your fabric, you can find that this comes with as easy to use manual to help you to know how to do it.
It also tells you the right temperatures and timings to use! The LED Controller is an intelligent one, with a safety setting that stops the heat and maintains the temperature once it hits 450 degrees Fahrenheit.
This is excellent at transferring a range of vinyls to a huge variety of materials and the BAHOM after sales service is one that is impeccable. 

Check Price
Frequently Asked Questions
As a beginner, you're naturally going to have a few questions when it comes to the world of heat presses. It's natural to be confused or even intimidated by a heat press if you've never used one before, but don't worry. Like anything in life, once you've had a few goes, pressing will become incredibly natural to you.
Here's some of the more common questions we're asked:
How much should I spend on a heat press?
This all depends on your budget and what you're going to be using the press for. If you're just starting a t-shirt printing business you may want to go for a mid-range press that is user-friendly, and large enough to deal with bigger quantities of materials.

If you're just starting out, it may be better to go for one of the smaller, cheaper presses, just so you can get the technique of pressing down.
Is it hard to use a heat press?
We've chosen presses in this guide that are specifically easily for beginners to use from the get-go, but generally speaking presses are easy to use, especially basic t-shirt presses where the users is literally just clamping press down onto a plain tee. You can also check out our guide on how to use a heat press if you're stuck on where to start with your new press. 
This post specifically was written with beginners in mind so you're not having to deal with multiple pressure settings, obscure models without user manuals or any overly-large presses that are too hard for a novice to handle. Plus, if this is something you're just getting in to now, why complicate the process with a machine that takes a long time to get used to? 
Is heat pressing dangerous?
Like any form of machinery, things can go wrong. With a heat press, you're dealing with high temperatures that could very easily burn or damage your skin. If you take the appropriate precautions and safety measures outlined in the pressing documents that come with your machine, you'll be completely fine.
Please practice caution when operating your press, especially as a beginner.
Can any beginner use a heat press (or is prior technical knowledge required)?
It's actually surprisingly easy to get used to using a beginner-specific press, especially the smaller ones and miniature presses for home use. Whilst it's always advisable to read any instructions that come with the press, it's not like some of the larger presses where you actually need to take time to read the (often thick) manuals and learn how to operate a complex press. 
What do you define as a beginners heat press? 
The main things I look for is size, price and ease of use. It's really that simple. Anything that isn't simple or costs a fortune should not fall under the beginners category. 
Conclusion
Like this guide to heat press machines for beginners? If you want to get a little more specific, you may also enjoy our rosin press guide both beginners and experienced users alike. Also, please take context into account when it comes to looking into heat presses or doing research for a new business.
Consider why you need a press before looking into the specific types (and don't spend too much upfront as many of these beginner press machines are actually low-cost, and it's not the type of equipment where you need to spend an absolute fortune upfront).