Looking to get a heat press for a T-Shirt printing business?
If you're planning on starting your own t-shirt business, one of the smartest things you can do is purchase a reliable heat press machine that you can use time and time again to create high quality designs. Not all heat press machines are created equal, and if you're planning on creating a slew of happy customers, then you need to ensure you select the best heat press machine for your budget and business. If you produce shoddy designs that don't last, you're going to end up getting a bad reputation (which is often why people may opt for screen printing their t-shirts instead).
Below, you'll find 10 of the best heat press machines for t-shirt businesses. Take a look and you should be able to find the perfect machine for your needs. 
1. Oteymart 5 in 1 Heat Press Machine (12 x 15)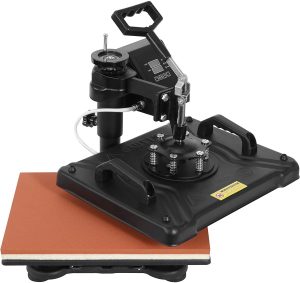 This is a 5 in 1 multifunctional heat press machine that can transfer just about anything you want, including colorful photos, words on a cup, numbers on T shirts, and more. You can use it to produce personalized gifts, decorations, branded clothing, and just about anything else you can think of. 
This item comes with an integrated LED screen, you get to set the temperature and the timer. Instructions are included for an easy set up, and you'll also enjoy using the full 360-degree rotation of swing-away with ergonomic foam-grip.
Included in the package you will get the press along with everything you need to create various items to the highest quality. You will find:
1x Fully-assembled machine with platen press

1x Hat press

1x Mug press

2x Plate press

1x Silicone pad

1x Cotton pad

1x User Manual
Please remember that T-shirts, cups and hats are not included and you should have some practice items ready so you can use your press with confidence going forward. This is an ideal press for t-shirt businesses as it's so easy to set up and extremely cost effective and safe. 
Check Prices
2. Cricut Easy Press Mini
This mini press is a compact size, ideal for unusually small or unique heat transfer projects. If you're planning on printing clothing items for babies or children, for example, this may be the press for you. However, it has so many more uses! You will be able to use the press to customize unusual projects like hats, shoes, or even stuffed animals. Of course, you can also use it as a simple t-shirt press. The ceramic coated heat plate  ensures a dry, even, edge to edge heat so you get the best results. 
When using this item, the infusible Ink heat transfers are permanently infused into your base material. There will be no flaking, peeling, cracking, or wrinkling, ensuring you keep the trust of your customers and that they come back to you again and again. 
Although this press may be so much smaller than others out there, don't be fooled by its size. It packs power and can help you with the most unusual of projects and objects. You might wonder why you shouldn't just use an iron, but this is very different to your standard household iron. It's much smaller and more compact firstly, so it's lighter and helps you to get between buttons and seams. You also get more control with it due to the shape and size, and won't have to worry about steam ruining your projects!
Check Prices
Full Review
3. Super Deal PRO 12 x 10 Digital Swing Away Heat Press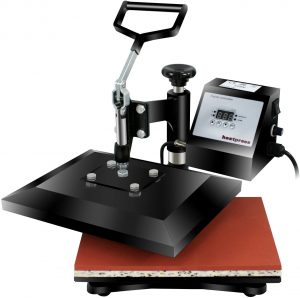 This option is incredibly lightweight and compact, making it an ideal option for home businesses or working places with limited space. It is perfect for applying numbers, letters, and images on your t-shirts and other garments. This is an upgraded machine that ensures even heating and designs that don't fade away, even after multiple washes. 
It has a sturdy welded framework and is totally scratch resistant, so you can use this machine for years with no trouble. The price is also something worth shouting about, and the fact you can easily store it away is a huge bonus. This machine is perfect for the very small business owner! 
Check Prices
4. Fancierstudio Power 15 x 15 Heat Press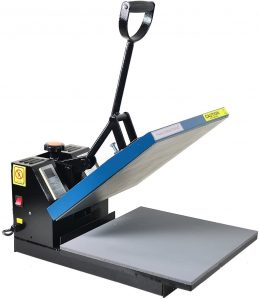 This is a brand new model by Fancier. A 15-by-15-inch industrial-quality digital heat press with improvements from the previous model, and you get an included sheet and coating on the heat plate. The company has made many improvements over their old model, ensuring users are more than happy with their results. 
If you're looking for something to help you get started, then this could be just right for you. It's affordable and can do almost anything you want it to. Use it for months continuously and you will still enjoy the same quality as the first time you used it.
No instructions are included but it's really easy to figure out and takes only around 15 minutes to heat up, so you can get to work right away. It's not huge, so you shouldn't have a problem finding a place to store it if you work from home. All you need to do is keep an eye on how much tension you need and you'll be well away! 
Check Prices
Full Review
5. PlanetFlame Factory CE 12 x 15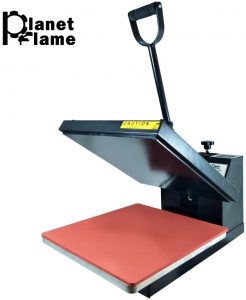 This is an impressive machine for the price and the various attachments that it comes with. There are so many youtube videos that you can use to help you, too (accessible through QR codes in the instruction manual). The top t-shirt heat plate is removable so you can swap it out with the plate press attachment. Before you use this machine, make sure you use the included screwdriver/allen wrench combo to tighten it up. You shouldn't have any issues this way. 
The machine is the perfect size, and with an adjustable tension/pressure knob, and 180 degrees swivel, you should be comfortable when transferring your t-shirt designs. 
The press heats up quickly and stays consistent throughout use. Some things need light pressure and some need heavy, so bear this in mind as you use it and ensure you adjust the pressure accordingly. If you get a feel for this machine and use it properly, you should find that it helps you to take your business to the next level. 
Check Prices
Full Review
6. Beautysail Transfer 12×15 Heat Press
There are three concepts when it comes to using this heat press machine: pressure, temperature and time. Find the right amount of pressure, ensure it's the right temperature, and in time you will be able to create amazing designs that help you to grow your business. 
Ultimately, this is an excellent machine for the price. It's a quick and easy solution to printing t-shirts. The press machine works exactly as it should and the quality is fantastic. You can't deny that it's good value for the money, either, so perfect for businesses that may need to keep their finances under control. The 360 degree swivel, LED design, and the fact this is a heavy duty machine make it so easy to use and ensure it resists wear and tear in the long run. 
Check Prices
7. RoyalPress 12 x 15 Heat Press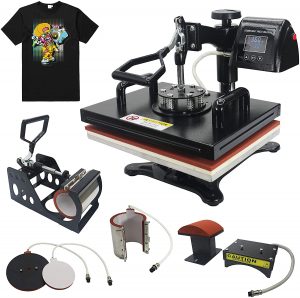 The Royalpress swing-away 12″ x 15″ Multifunction combo 5in1 heat press includes all of the must-have attachments for your business to create a variety of items. This press heats up quickly, stays at the right temperature and can make such a difference for business producing t-shirts.
The consistency of the machine ensures you leave delighted customers in your wake and keep them coming back time and time again. You'll be certain to notice the difference if you go from using an iron to using this and you will love the results. It's a real game changer! 
There are videos on this specific machine on YouTube if you need help getting set up, so check those videos out and practice before getting to work.
Check Prices
Full Review
8. Cricut Easy Press 2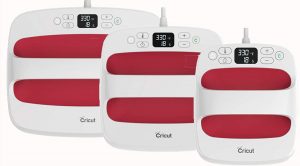 This is an everyday iron on essential with adjustable heat. It will give you professional results in less than a minute! With the speed and convenience of an iron but the mightiness of a heat press, you will be able to create awesome designs wherever you may be. 
When you figure out how to use the EasyPress, you will find that it gives you fast and foolproof results that really stick, even after repeated washes. This means your customers will be over the moon with their t-shirts! You only have to apply gentle pressure, and when you hear the beep, your item is complete. 
EasyPress is lightweight, portable, easy to store, and compatible with major brands of heat transfer material. 
Again, if you're wondering what the difference is between this and an iron:
Set this to the exact temperature you need

Has a timer 

Creates designs to last 
This is one heat press that will make you want to apply designs to everything you own – be warned! 
Check Prices
Full Review
9. Aonesy Heat Press Machine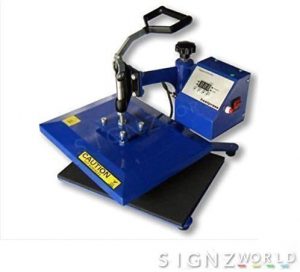 This is a heat press that was made for business. Whether you create band costumes, gifts, or personalized outfits, you can use this press to your heart's desire. It has an auto shut off function so you can have peace of mind – it's so lightweight, safe, and easy to use, that even children are able to use it! Just make sure you supervise them as it does get very hot. 
This heats up very fast and comes with a free t-shirt for you to practice your technique. It's very safe and will do everything you could possibly want it to do. It's also very cheaper than massive brand names that do the same thing. Just make sure you read the manual so you don't have anything to worry about when doing your first design. 
Ultimately, this is a reliable and affordable press that will help you to create a multitude of designs on many different materials and items. You can't go wrong! 
Check Prices
10. VEVOR Heat Press 12 x 15 (5 in 1 Press)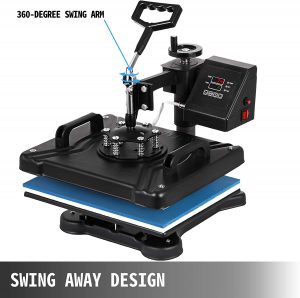 This 5 in 1 heat press machine has a built-in Teflon coated 12″x 15″ (29 X 38 cm) heat plate with a full range of heating coils to allow for consistency throughout its surface. This means you will produce high quality, consistent designs, each and every time. You can't always rely on presses to be consistent, but this one, you can. 
The swing-away design of the sublimation machine ensures it is safe and comfortable to use. It can be used for shoes, T-shirts, caps, ceramic plates, ceramic tiles, mugs, mouse pads, and other fabrics & materials, so whatever your business may choose to offer, you can trust this press to help you get it done to a high quality.
It comes with a variety of fittings and accessories so you can start transferring on just about anything you want. Whether you have your own t-shirt printing business or you're offering a variety of items and designs, this machine won't let you down. 
Check Prices
Full Review
Conclusion
Each of the heat press machines above could be suited to your business for different reasons. Take into account your budget and needs and see which of them feels right to you. Which of them will you choose? Happy shopping!
Also, if you're looking these sort of specific presses then you may also found our guide to starting a t-shirt printing business helpful too.