Looking for the best heat press machines to use at home?
Whether you're looking to transition from a rosin press into a more traditional heat pressing machine, or you're considering something like starting a home t-shirting printing business and want to look into smaller heat presses, then hopefully this guide can shed some light!
I've been around the block in terms of the types of mini presses I've used, and know a thing or two about what you should be looking for when purchasing a heat press for use in the home.
So, the actual number of products are kept quite small in this guide, as you're going to want to get a press that ticks all of the boxes in terms of size, usability, and ease of storage. And as you can imagine with heat presses, most of them are not on the small or portable side!
So, without further ado, let's take a look at my top 5 tried and tested heat presses for use in the home.
5 of the best small heat press machines for using at home
1. Cricut EasyPress 2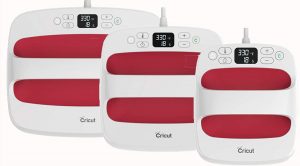 Cricut has quickly become a world renowned brand and it's easy to see why. Beloved due to the fact that their tabletop heat press machines offer even coverage, an innovative heat plate design and they come in a variety of sizes, they are often praised internationally.
Their newest heat press machine, the Cricut EasyPress 2, works on a range of different thicknesses and materials because of its cutting-edge heat plate design. Featuring two heating elements and a ceramic coated surface, it allows for pro-level transfers. So whether you're looking to press iron-on materials on t-shirts or another type of fabric/object at home, you'll love what the Cricut EasyPress 2 can offer you.
Due to this efficiency and the fact that they are simple to use, it's perfect for those not used to using HTV or tabletop heat press machines in general. Designed for easy set up, you'll be able to follow the instructions laid out so that you can get started immediately. Once you're done, it then takes moments to clean up. Arguably a big improvement to the original Cricut, you'll have an amazing HTV crafting experience. 
As they are available in three sizes – 6" x 7", 9" x 9" and 12" x 10" (as well as different colors) you'll be able to find the right size for your needs. No matter what size space you have to work with, these small heat presses will work wonders.
Another reason why the Cricut EasyPress 2 is one of the best small heat press machines for home use is because of the heat that it can reach. Adjustable, it has the capacity to reach up to 400℉ within minutes.  Once it's at the heat that you want it to be, you can then place it on the area and apply gentle pressure. In under 60 seconds, you'll have a professional result. It will even beep to let you know that it's time to remove it.
Unlike using an iron that produces uneven coverage, the Cricut EasyPress 2 delivers coverage unlike anything else. Eliminating the guesswork, you'll have fast and foolproof results in no time at all. It's even compatible with a variety of brands of heat transfer material – meaning that you don't have to spend out on costly HTV material if you don't want to. 
Pros 
Delivers a pro-level professional performance every time
Requires minimal maintenance throughout the year
Three different sizes to choose from
Works perfectly with Cricut Infusible Ink and Cricut cutting machines
Efficient and easy to use for beginners and experts alike.
Offers safety features – auto-shutoff if it detects that the machine has been inactive for 10 minutes, along with an insulated safety base that will protect your work surface.
Cons 
One of the most expensive small heat presses available 
Applies less pressure than bigger machines
Not suitable for bigger projects due to its petite size
Check Price
Full Review
2. BOSSTOP Portable Heat Press Machine
Second on this top 5 list is the Bosstop Heat Press Machine Portable 9" x 9". As the name would suggest the Bosstop is an ideal portable and lightweight heat press machine. This flexibility makes it a contender for the best heat press for using at home, as well as on the go if need be.
Featuring petite 9" x 9" heat plates, this small heat press can handle a wide range of projects from bags to photo prints and jigsaw puzzles. This multifunctional flexibility won't limit you as to what you can create – a big bonus for all users. 
It also comes with a convenient, easy-grip handle (similarly to the Cricut) so that you can place it on the fabric and transfer the vinyl easily. 
If you're worried about having to assemble it yourself you needn't worry as it's assembled upon arrival. This means that you can immediately start to use it as soon as it's delivered to your home. This simplicity makes it very user-friendly for beginners with no experience using a heat press machine, as well as more experienced users. 
If you're not familiar with what temperature you should be using, it comes integrated with both a temperature display controller and a digital LED timer. This gives you the freedom to choose the heat that's applied – meaning that the fabric won't be overexposed to a temperature that causes damage. A feature that's often only available on more expensive models, this budget-friendly machine offers a high-quality performance every time.
In terms of safety features, similarly to the above heat press machine, it has an auto-shutoff feature, an insulated base and a Teflon coating. This ensures that the machine is as safe as possible for everyone that uses it. Shutting off after 10 minutes, you won't have to worry about damage to the fabric/area if you've accidentally left it on and stepped away.
Pros 
Comfortable and easy-grip handle
Auto-shutoff safety feature
Temperature control – up to 356℉
Time display control – meaning that you don't overexpose the vinyl
Comes with a Teflon sheet and silicone mat
Multifunctional – giving you the freedom to use it on a variety of different projects.
Cons
Not very durable – many claim that they have to replace their machine after several months of use. 
Temperature and heat can be inconsistent
The silicone mat isn't very thick – meaning that you may need to have extra protection so that your surface isn't damaged by the heat.
Check Price
3. Cricut EasyPress Mini 
The second Cricut heat press machine on this list, the Cricut EasyPress Mini has rapidly risen in popularity due to its petite size, flexibility and functionality.
Although it's a lot smaller than other heat presses mentioned in this guide (weighing just under one pound and measuring 3.25" x 1.92"), it's ideal for beginners who are looking for a high-quality, easy-to-use small heat press. It also means that as well as using it at home for crafting projects you can easily pop it in a bag and take it with you. 
Because of its small size, you can also reach parts of the material that you wouldn't have been able to/apply it to smaller pieces of fabric than if you used a bigger heat press machine. You can, therefore, use it to customize a wide variety of projects from small pockets to hats, baby clothes and even earrings. This small stature makes it the ultimate addition to your crafting table as it won't take up much room.
Featuring 3 heat settings (low, medium and hot), you can adjust it as needed depending on the material you want to transfer onto – just make sure that you don't use the high setting unless the project calls for it to avoid damage to the material. Although this is undeniably a benefit, you'll want to ensure you're aware of the exact temperatures that each setting offers. 
Using a heat plate that's ceramic-coated, you can move the machine easily and smoothly across the surface with little effort – which is far more convenient than using an iron and makes crafting easy for every user. However, similarly to an iron, it has an easy-grip handle that's comfortable to use for long periods of time.
Pros 
Easy to use and manoeuvre
Can be used on a wide range of small projects and materials
3 temperature settings – low, medium and high and can reach up to  400℉ within minutes.
Budget-friendly price – making it accessible for everyone.
Clever, built-in safety features – including an insulated safety base and auto-shutoff after 10 minutes of inactivity.
Its tapered end makes it perfect for tight spaces
Cons 
It doesn't have a countdown timer – so you'll have to time how long you're applying pressure for yourself.
The petite size makes it unsuitable for larger projects – therefore you may be limited as to what you can make.
Only comes in one color – raspberry.
Check Price
Full Review
4. VEVOR Heat Press 12×10 Heat Press Machine 
Although VEVOR is a brand that's perhaps less known than others on this top 5 list, the VEVOR Heat Press 12 x 10 machine is a worthy contestant for the best heat press for using at home. Why? Because not only is it very durable and portable (giving you the freedom to move it around your home and elsewhere easily), but it has a unique vibration function that means that you don't have to hold it while it applies heat – giving you time to craft while waiting for it to finish.
Featuring an aluminium plate and thermostable plastic, it offers high-temperature resistance. This delivers a high-quality performance while ensuring that your surfaces are protected. It's also very economical due to its dual use – it's a 2 in 1 heat press giving you the power of an iron and small heat press machine.
Despite its portability, it has the ability to print on large surfaces as its heating plate is 12 x 10 inches. However, if you want to make smaller projects then you can do this too. This flexibility makes it ideal for crafters wanting to transfer vinyl, photos and more onto different materials.
For safety, it has a unique detachable safe base – something that's not seen on other non-commercial heat presses. This is designed to protect you from the heat that it creates (which can reach up to 450℉). It also has a handle that has an anti-slip surface, so that you feel comfortable using it without the risk of it falling out of your hand. 
To guarantee that you're using the most suitable temperature for your project, the VEVOR comes with a state-of-the-art sensitive touch display screen. Integrated with number buttons, you can set a timer for an easier and smoother operation. This display screen isn't a feature that's seen on others – so a big plus point for ensuring precise application.
Pros 
Wide application – can be used on a wide variety of materials and fabrics.
Lightweight and easy to transport
High-tech touch display screen – allowing you to set the temperature and set a timer.
Vibration function – meaning that you don't have to physically hold the heat press.
Maximum temperature of 450℉
Different colors available
Cons 
It's more expensive than other similar heat press machines
It's heavier than other heat presses on this list
Check Price
5. Synpress Artista Transfer Press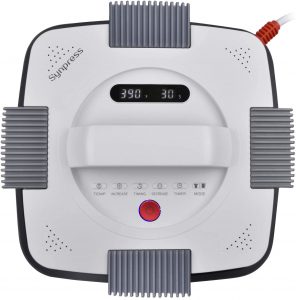 If you're looking for a high-quality, durable and reliable small heat press for your home then look no further than the Synpress Artista Transfer Press. A portable sublimation printing machine that can be used for vinyl, metal and other materials, it allows you to easily transfer your design in minutes.
No matter if you're interested in printing on a shirt, mouse pad or mug (among other items), this is a great option for you. This is due to its two unique operation modes – iron and mug that you can choose from. A feature that's not seen on other heat presses, it gives you the chance to make your own projects as well as gifts for loved ones if you wish. 
In terms of its weight, it's one of the lightest despite its size, weighing in at only 8lbs. This makes it easy to carry from your crafting cupboard and store within your home when you're not using it. 
In terms of design, it has a large handle with easy grip, 4 Teflon-covered pressing pads to allow for even coverage, an insulated base to protect your work surface (as well as your skin) when using it and digital controls that give you the freedom to set the temperature and time. 
This design makes it a great choice for beginners as it's incredibly user friendly. Alongside the insulated base, the Synpress heat press has other safety features, including an auto-shutoff that prevents overheating and the risk of a fire. 
Although it's one of the more expensive small heat press machines available on the market, the working accessories that it comes with (including a user manual, safety base and silicone mat) along with its durable build make it arguably worth the money. And despite this price, it is still cheaper than the machines used commercially. 
Pros
Built-in safety features – such as auto-shutoff and an insulated base.
LCD display screen with timer and temperature gauge
Easy to use – making it user-friendly for novices and experts alike.
Available in two different colors
9" x 9" heating plate that's ideal for larger projects
Compatible with different fabrics
Dual purpose – two operation modes, iron and mug.
Comes with a convenient 2-year warranty
Cons
You may need to apply a lot of pressure depending on the fabric you're printing onto.
Check Price
Full Review
Advice for using a heat press at home
Safety First
If you're pressing at home, then be sure that you have the right heat mats and pressing implements that will ensure you're pressing safely. Never leave a press that is plugged in alone, regardless of whether you're using it or not. It simply isn't worth taking the risk!
Keep the costs low
There's no need to purchase t-shirts or materials in bulk initially, unless you really know what you're doing. I think it's best to purchase samples and practice your pressing technique until you're confident to press designs or patterns on bulk materials you've paid for.
Start Small
You're going to not only want to perfect your pressing technique, but also get the right designs for the materials you're pressing on. My best advice here is to say that don't worry if you don't get things right the first time. It's all a learning curve, and these things take time!
Conclusion
Hopefully this guide has given you some insights into how you can get started with your heat pressing projects at home, and also the things you need to consider to ensure your operation is a success.
If you liked this guide, I've also done one on the best cheap heat press machines which you may enjoy!