Wondering how you can get a quality heat press under the 500 dollar mark?
The first-ever rosin press produced was actually a hair straightener! We have come a long way since then, and now there are some incredible rosin press machines on the market. With a vast selection to choose from, we have pulled together 5 of the best machines you can buy for under $500. 
1. Mini Manual Heat Press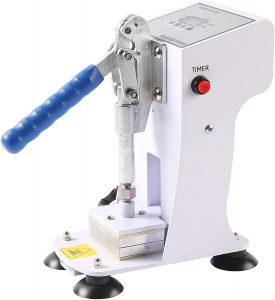 Priced at under $200 the mini manual heat press has a robust construction and simple design. Its size makes it an excellent choice for those who want to travel or have a discrete looking machine at home. The locking lever mechanism gives you great control and 5×3 inch dual heating insulated solid aluminium plates work effectively.
Generating 1000lbs force but weighing in at under 10lbs it packs a punch for its small size and it comes with a convenient carrying handle to ensure effortless transportation. Other features include: Herb drying and oil extraction heat press platen, 1.2 inches thick solid aluminium made heating element with a 0~250℃/485℉ temperature range giving the user multiple heat options to tailor the yield to their specific requirements.
The Mini Manual heat press is a perfect machine for personal use as it operates quietly, and there is no need for additional equipment. This machine offers excellent value for money and is an ideal starter press for anyone wanting to create their own DIY natural oil. 
Check Price
2. MyPress Gen 2 
The MyPress Gen 2 is an easy to use rosin press. You will need minimal manual force to close the lock and heated plates. Once engaged, all the work is done for you, so if you are looking for a simple solution, this machine is perfect. The temperature range is 100℉-250℉ giving the user an excellent scope to fine-tune their ideal temperature.
By experimenting within this range, you can find the perfect aroma, a larger yield or the best of both worlds. MyPress Gen 2 boasts dual heated 3×3 inch heated stainless steel plates which are evenly heated. This gives you a precise measurement of distribution from the contact point of your material. The LCD front-facing counter-up timer is intuitive to the plates and will stop counting when they are open.
Once closed, the counter resets to zero giving you better monitoring options and helping you improve the results of your yield. It supports user recording so you can ensure you have the best settings every time. MyPress 2 is perfect for DIY natural oil, and the size makes it ideal for the home environment.
Smaller than most coffee machines and offering a subtle and professional-looking design, you will be impressed by the overall performance of this simple to use device. 
Check Price
3. Vanell Mini Manual Heat Press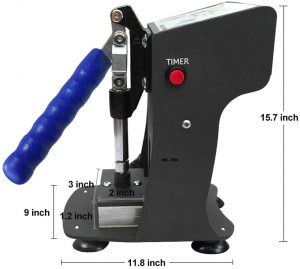 The Vanell is a no-fuss, simple design press which offers excellent affordability to the user. Using aluminium heating elements and 3x2inch platen, you have a decent temperature range to play with.
The machine is fitted with a clamshell heat presser which can generate up to 770lb of force. Vanell is equipped with a digital control panel on the top of the machine, giving you a simple and straightforward way of operating the machine and allowing you to work the precise settings to ensure your oil has the best aroma or yield.
The device is uncomplicated and easy to use. It's small in stature offering a discrete machine that would blend in with other work equipment.
Its robust structure gives the user confidence in its ability and will help you create natural oils tailor-made to your required taste. 
Check Price
4. 5 Ton Hydraulic Heat Press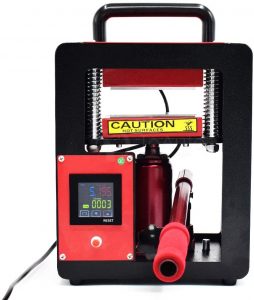 A robust machine that is capable of incredible pressure. The anodized food-grade working surface makes cleaning your machine simple and easy. With independent heating rods and thermocouple, you can get an accurate temperature to improve the quality of your oil. This hydraulic device delivers 5 ton of pressure on the plate, allowing you a more efficient heat press.
Offering an upper and lower heat press of 2.4×4.7inch and a temp range of 0-450 Fahrenheit, you have a fantastic range to help you improve and control the quality of your oil. Regardless of your taste, you can enhance the aroma or the quality of your product. The pressure range can also be adjusted up to 5000kg.
If you are looking for a more robust machine with a limitless range of options, then this is the machine for you. The intelligent temperature control with LCD screen and timer gives you more control as the user and helps you to record all information for repeat processes. The square shape of the machine makes storage simple at home. 
Check Price
5. The Brick Press
One of the highest quality personal rosin presses you can buy! Built from aircraft aluminium and constructed with machines aluminium, this high tech press is in a league of its own compared to others on the market. Giving you the best results every time.
Designed to be heated to the ideal temperature to give the best results in pressing. The high-quality build is made to last and aimed to be a permanent piece of equipment, ensuring no need to upgrade or replace your machine.
Brick Press has no limits to heating, and the aluminium used to create the press can withstand and transfer heat better than any other on the market. It's easy to clean too and doesn't get hot.
A durable machine designed to be used time and time again. 4 Ton / 8,000 Pounds of Pure Hydraulic Ram Force. It creates 3″ x 5″ Bricks with up to 2″ Inches Deep in Thickness. Coming in at just over $400, the Brick Press is incredible value for money. The industrial design is American made and built to last.
The unit itself has an industrial feel to it but would blend into any working garage or workshop. Its ergonomic look makes the press extremely easy to use. If you are looking to create the finest quality yield, then The Brick Press will help you deliver it, time after time. 
Check Price
Conclusion
If you're looking for a heat press for beginners then these types of presses that don't cost the earth are a great place to start. Ultimately, if you're new to pressing that it wouldn't make sense for you to buy a super-expensive press anyway, so make sure you're looking to get a press that is both right for you and one that won't break the bank.