Wondering what the best plates are for pressing rosin?
Even if you've already got a rosin press, you still need to know what each part of the press does, and arguably one of the most importance factors in play is the pressing plate itself.
From brand to different pressing techniques, you're going to need to make a careful decision on purchasing the perfect press for you.
Please note that this guide is regularly updated with further plate recommendations and general answer to the types of questions I get. Last update date is October 2020. This guide outlines five of the best plates for pressing rosin on the market today, let's take a look.
1.TPC Plates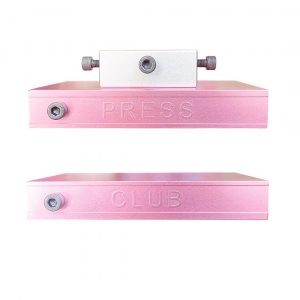 The Press Club is a trusted industry leader in the solventless space making premium rosin bags and pressing accessories. In 2021, The Press Club introduced their first set of highly anticipated 3" x 5" and 4" x 7" rosin pressing plates for both in-home and commercial pressers.
Unlike competitors, The Press Club plates are made from 6061 Aircraft Aluminum Alloy which means they retain heat much better and will never bend under any amount of pressure. All press plate kits include all parts for setup. Setup is easy. Learn how to setup your press here.
The Press Club rosin plates are available in two different sizes: 3" x 5" and 4" x 7"
FreeFreeHand has partnered up with The Press Club to give our customers 10%-OFF any 3″ x 5″ or 4″ x 7″ press plate kit. Use code FREEFREEHAND at checkout.
Pros
Premium Materials
Dual Heat Rods
Insulation Kit Included For Top / Bottom Plates
Consistent heat delivery; readings in Farenheit vs. Celsius
Cons
Pricier
Plates require a H-Frame press (10 Ton or 12 Ton recommended)
Very limited quantities made / sold per year
Check Prices
2.

Dab Rosin Press Plate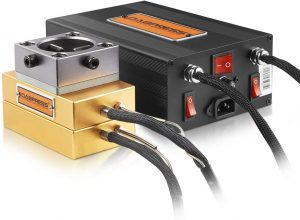 The Dab Rosin Press Plate  is the perfect machine to create this rosin and is ideal for beginners. It is a small uncaged version of the more industrial models and can be set up quite easily in a small room or garage.
It has Dual 3×5″ heated platens that provide ample space for excellent domestic yields. There are 2pc heating rods of 500 watts that deliver between a 0-399F temperature range. This can be set and monitored using the accurate temperature detection system. 
The Dab Rosin Press Plate  is installed by attaching the top plate to the ram of the hydraulic press. The bottom heat plate is then attached to the workable plate and a long threaded rod is passed through the bamboo insulation.
The ram is then lowered using the rod until both plates meet. It is a hydraulically assisted hand operated press and can deliver up to 9.5lb of gross weight. 
Pros: 
The

Dab Press is excellent value for money. Many industrial caged presses can cost thousands but don't necessarily outperform this $200 model

Heavy duty and well-machined. Can be bolted onto surfaces

Shipping is fast and discreet. Press is weighty and built to last
Cons: 
If plates are not precisely lined up, uneven heating can result in lost product

In some cases the bottom plate is reported to malfunction

Extra care needs to be taken with assembling Dab Press to avoid heat loss
Check Price
3. FASTTOBUY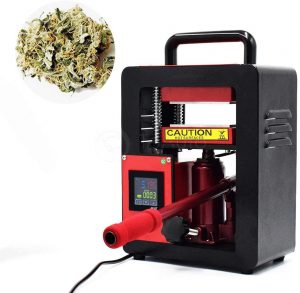 The process of extracting rosin from marijuana buds is made easy with the FASTTOBUY DIY Rosin hydraulic press. There are many benefits to undertaking this process including higher yields, more potency, faster-acting effects, and greater versatility of your end product. It can be used to make crumble, wax, budder, shatter, sugar, and more. 
The FASTTOBUY hydraulic heat press machine is ideal for those who are new to rosin pressing since it offers excellent quality and functionality at a relatively reasonable price. Many industrial presses can cost thousands of dollars but this can provide similar functionality for less than $500. The FASTTOBUY press is also mobile. It does not have to be fixed to a surface for best results which is highly beneficial for some forms of production. 
The FASTTOBUY hydraulic device features a five ton, hand-operated press. The hydraulic assist mechanism makes pressing the buds much easier while delivering the same force.
This provides much better heat press efficiency resulting in a better yield of rosins. A common manual press without hydraulic assistance can be harder to operate and may cause a loss in rosin yield. By releasing the pressure value on the FASTTOBUY press the bottom plate will automatically return to its starting position. 
The process of pressing rosin, especially by hand, is all about balance. The balance of time, and temperature, and force. But the first factor you need to consider in the quality of the flower.
Input equals output. If you're pressing for the first time and complaining about low yields check your humidity, it's almost always down to the input flower being too dry. An overly dry flower absorbs the rosin before it can be squeezed out. 
After that consider the temperature. This should be kept around the 230° F mark as anything above this causes the terpenes to evaporate. There is also more of a cracked consistency of rosin over temperature of 220° F. Ideally you want to aim for between 170° and 230° F for the best Oil extraction.
The FASTTOBUY hydraulic press has an intelligent temperature controller with cool LCD screen and timing button to ensure that temperature can be accurately set. This is also useful to beginners unsure of optimal settings.
A further benefit of this model is the upper and lower heating plates allowing input material to be heated evenly – this is important when pressing as uneven heat can result in lost yield and failed batches. 
If you prefer to have a DIY press that is portable and easy to store rather than fixed to a table in a designated room, the FASTTOBUY hydraulic press is an excellent option. It has a neat compact frame that can be transported anywhere and discreetly stored. 
Pros: 
Compact and convenient – excellent for beginners or those who need to travel to press. Can be stored discreetly almost anywhere. 

Food-grade working surface – it's anodized food-grade working surface ensures easy washing

Independent heating rods and thermocouple ensures accurate temperature is delivered and detected.
Cons: 
This machine comes with a one year warranty but replacement parts such as it's heating plates and heating controller are hard to aquire due to only one manufacturer operating.  

The machine does not indicate what force is operating anywhere on the display. It does however indicate the time and temperature. Force is set at 0-5000kg. 
Check Price
4. MyPress Solventless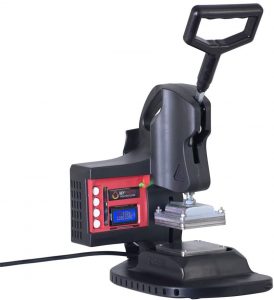 If you are new to rosin pressing heat plates and want a machine that is easy to use but operates to professional standards look no further than the MyPress Solventless rosin press. This press is a portable, lightweight model designed and engineered in Colorado from scratch to meet specific customer needs. 
The press uses custom 3X3 stainless steel plates that deliver an even heat for quality yields. Plate temperatures range from 100° to 250° Fahrenheit (37°C – 121°C). The LCD interface on the press is simple to use, easy to read, and provides crucial data such as temperature and time. The machine also features a count-up timer that intelligently counts when open and resets when closed. 
The MyPress Gen2 requires minimal effort to operate. It's easy to handle can be pressed closed manually with as much force as it takes to squeeze the juice. It's size, weight and ease of use make it more equivalent to a kitchen appliance than an industrial device. When the plates are firmly locked the MyPress does the heavy lifting.
An even heat, distributed across the 3X3 stainless steel plates, combined with the hydraulic force to squeeze quality rosin from buds. Because of its smart settings it doesn't require any specialist knowledge to use. 
Some experimentation may be required to achieve the results you're looking for. Most people want a high yield of quality rosin which requires quality buds with the right properties and humidity values. Others, however, may be more interested in heightened aroma, larger yields, or a combination of results.
The press temperature range of between 100℉-250℉ (37°C -121°C ) allows you to easily experiment with your press and record your notes for future reference. 
One feature that sets the MyPress apart from similar models of its class is the temperature control digital display. This function stops the timer when plates are open and resets to zero when closed.
This allows the user to efficiently monitor the pressing process and make adjustments when needed to maximize the quality or condition of yields. The front facing LCD counter is easy to see and user-friendly meaning operator can record starting material-specific results, to narrow and improve future performance. 
The MyPress Gen2 is the perfect addition to any household interested in producing regular quality oil and rosin to professional standards. Smaller than most coffee machines, the device will not look out of place in the kitchen and can be easily coiled and stored away if not needed. It is also perfect for taking with you  on the road. 
Pros: 
Setup is very easy. Pressure plates are easy to adjust and include a small wrench. Easy to plug in, adjust temperature, and form the material into a disk for pressing

It's a solid, well thought out machine. Excellent functionality and small enough to fit on an office desk or kitchen worktop

Excellent returns for minimal effort. Price seems expensive but pays off quickly
Cons: 
Looks like a cheaper product than it is, seems like it should be more solid

Must be operated according to instructions and guidelines, safety features mean that over exertion can break machine

Yields may not be as plentiful as other products in its class 
Check Price
5. MeinLay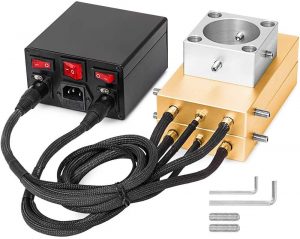 The MeinLay press has broad functionality at an excellent price. Unlike other models of its class it is not self-contained and will have to be table mounted, however, the device comes with full instructions on how to mount and start using immediately.
What it lacks in convenience it makes up for in operability and price. The MeinLay can press up to 20 tons – more than most devices in its market, and 4 heat rods deliver an excellent product.
Firstly the MeinLay uses 4″ x 7″ heat press plates that offer a good size for pressing oil as well as printing textiles and other materials such as t-shirts, mouse pads, puzzles, ceramic tiles, and other flat surfaces items. Heat pads deliver 600W combined with each of its four heating rods generating 150W of power. This increases the efficiency of the press and ensures all oil available in the buds is extracted. 
Further advantages of the heat press plates include their compatibility with other presses in the same class. The plates can be used in other presses and machines and are compatible with foreign plates provided they press up to 20 tons and provide 2.16″ diameter ram or less. This offers users flexibility and versatility when working across projects.
Four individual heating rods work together to deliver 600W of power that heat buds quickly and produce near-instant results. Rods can also detect exact temperature and adjusts according to settings swiftly using individual sensors. Aluminium plates are light and strong with excellent heat transfer ability.
The MeinLay press is simple to operate but does require a separate mounting. The good news is that it's compatible with almost all standard presses that can be purchased separately in store or online. The Arbor press and Hydraulic Shop Press are good options. For more commercial production, a pneumatic press is recommended.
Presses will last much longer if they aren't used at full capacity. A 20 ton press used at 10 tons, for instance, will last far longer than continually using it at 20 tons. It's useful then to keep your capacity goals in mind when purchasing a press mounting. 
If you're interested in using an Oil press for other applications such as branding or transfers then the MeinLay is the ideal choice. The press can provide double sided heating that transfers heat evenly and efficiently across the material's surface. For users with broader intentions or who want a quality plate press at an excellent price, the MeinLay should be considered. 
Pros:
MeinLay Oil Press has broad functionality, able to press a variety of other materials with its four powerful hot rods 

It is an excellent price for what it delivers. A MeinLay Oil press can be purchased for less than $500 offering some of the best value for money in its class

The MeinLay plates are super compatible with other mounting, making transportation and flexible workplaces an option. 
Cons:
A separate mounting must be purchased and press must be home built. Simple to do but less convenient than other presses

LCD displays are not as sophisticated as other similar models. 
Check Price
5. Dab Press 12 Ton Hydraulic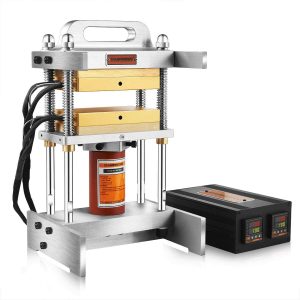 The Dabpress 12 ton hydraulic heat press machine is designed for beginners or experienced users wishing to generate higher quantity yields than is possible with smaller less powerful machines on the market.
This press has bigger plates and can deliver much higher temperatures meaning the more product can be created in fewer loads, and the machine's life expectancy is longer due to its dimensions and power requirements.
As with all Dabpress products the 12 Ton Hydraulic is designed to be user friendly and serviceable within the home of the facility.  
The Dab Press 12 Ton has a temperature range of between 0-399F allowing for a variety of Oil pressing option as well as diverse purposes. The optimal temperature for squeezing rosin is around 240-250F, after which a batch is likely to burn, crack or fail due to property damage.
This Temperature is delivered through a duel plate system with combined power of 1200 Watts. The heat plates are 4X7" anodized and made from aluminium. Duel heat rods for each platen provide up to 300 Watts per rod, meaning heat is delivered quickly and allocated evenly. 
Unlike other domestic and commercial models of press the Dab Press comes pre mounted. It uses a hydraulic hand pump for pressing that is combined with a gauge giving important information about pressure and temperature. The pump can deliver up to 12 tons of pressure making it ideal for commercial purposes as well as domestic use.
Unfortunately this pump is not included in the standard package and must be bought separately. A coupler reducer kit can be bought separately that connects the 10 and 12-ton presses to a 3/8″ couplers' hydraulic pump. 
It is a drawback that the machine does not come with a pump included. It will not connect with the 3/8″ hydraulic pump unless you also buy the ⅜" coupler reducer kit separately. The good news is the kit includes a 1pc reducer, a pair or 3/8" couplers – both male and female – that are easy to install.
All you have to do is remove the original 1/4″ female coupler from the hydraulic cylinder of the 10 or 12-ton press and screw the reducer into the hydraulic cylinder instead. Screw the 3/8″ female coupler into the reducer and connect it with the 3/8″ male coupler, you are then ready to start working.
Pros: 
For just over $500 you can have a commercial capacity hydraulic Oil press that delivers tremendous value and will quickly pay for itself

Large plates with even heat distribution allow for heavy loads and are multi-purpose 

Dab Press offer a one year warranty. They also have excellent customer service and new parts can be bought easily
Cons:
The machine does not come with the hydraulic hand pump. It must be bought separately and installed

Dimensions of the machine mean it is only suitable for commercial use. To be set up in a garage or premises. 

Machine can be frustrating to work with if not familiar with the parts and installation processes
Check Price
What beginners need to know about DIY rosin pressing
If you're unfamiliar with rosin extraction, it's the process of squeezing resinous sap from a natural flower such as cannabis or hemp. There are many benefits to this, such as creating a product that has a higher potency, better value, and more versatility – a broad range of consumable products can be developed from this rosin. 
The quality of your rosin will depend very much on the quality of your starting product. Most people take great care over developing an excellent starting material through sophisticated growing and harvesting methods. For best results, flowers need to be grown in the right conditions and cultivated at their peak – frozen if possible to maintain potency. The same process you might use for harvesting a fruit or vegetable.
When you have your initial product you need to follow the process of pressing it to create the rosin. First weigh the flower on a set of scales. When you press, roughly speaking, you get around 20% yield by weight ratio. So if you press one gram of flower you can expect to get 0.2 grams of rosin.
Remove the stems of the flower and pack the buds. It's best to use a compressor tube. Compress the flower so you have a tightly packed tablet-shaped material. Compressed flower is then wrapped in parchment material and placed in Dab Press. The heat plates apply heat and pressure to the compressed flower squeezing the potent oil onto the parchment.
The process takes less than a minute. You will end up with a squashed flower with the sticky yellow rosin all around it. This can then be scraped up and molded.
You can also find out more about the entire process with the how to use a rosin press guide.
Conclusion
Pressing your own rosin and getting to grips with the entire process is both fun and massively rewarding. Choosing the right plates and press for you is incredibly important, so be sure to read guides like this one so that you can make the best choice for getting an increased yield from your rosin pressing activities!