If you are looking for a vinyl cutting machine, there are a lot of things you need to consider to ensure you end up with the right one for your purposes.
We will look later on at 10 of the best vinyl cutting machines for beginners, but first it might be useful to discuss why you might need one in the first place, and what it can do for you to have one that works to your ends. Many people might not even realise they could benefit from a vinyl cutting machine until they look into it!
What Is A Vinyl Cutting Machine & What Are Its Uses?
First of all, what is a vinyl cutting machine, exactly? A vinyl cutting machine is simply a computer-controlled machine, used for cutting vinyl. Some of the smaller ones look something like a desktop printer, whereas you can also get larger ones that are used in an industrial setting. For the sake of this article, however, we are going to be focusing on vinyl cutting machines for beginners specifically.
In using a vinyl cutting machine, an image has to be created, and then you can use this to cut that image into the product or material you are using. There are many uses that you might be able to find for such a machine, and truly you are only ever going to be limited by your own imagination. But there are some particularly popular uses for vinyl cutting machines, especially those that tend to be used by beginners. These uses include:
Labels and stickers.

Electronics and circuit creation.

Woodworking.

Crafts.

Painting and artwork.

Paper engineering.

Prototypes for products or projects.

Decorations.

Custom apparel, such as clothing like t-shirts and hats.

Wallpapering.

Home decoration.
As you can see, there are many potential uses you might find for a vinyl cutting machine. Arguably, however, the single most common use of a vinyl cutting machine in the home for beginners is to design and make your own t-shirts, which can be a fun thing to do for a pastime or hobby, or you might even want to do it in order to start up a small home-based business.
Whether you are thinking about doing that, or you just want to play around with the technology involved in using a vinyl cutting machine, it's a good idea to know which machine to use. As it happens, there are many options out there, and shortly we are going to take a look at those 10 options that you might want to look at in particular.
But before we get into those detailed reviews, let's think about what sorts of things you should bear in mind first. Next up we will do just that, with our beginner's guide to buying a cutting machine for use on t-shirts. The following information will be hugely important as you go on the lookout for a vinyl cutting machine of your own that you can make use of – whether for personal or professional purposes.
Beginners Buying Guide For Cutting Machines For T-Shirts (That Don't Cost A Fortune)
Whether you are thinking about starting up a small home business, or you are just keen to design some interesting t-shirts for you and your friends, you need to first be aware of all the details around buying one of those machines. As you know, later in this guide we are going to take a look at some of the best vinyl cutting machines for beginners that exist in the marketplace right now. But first, here are some of the things you need to know about buying a cutting machine for t-shirts.
What Are Your Goals?
First of all, it's wise to have a strong sense of what your overarching goals are. Are you looking to casually make a few nice t-shirt designs that you can personally enjoy? Or are you hoping to make a lot of money selling clothing on? For the former, a simple home machine will do. For the latter, you'll want something bigger, more substantial, and able to deal with industrial needs.
What Is Your Budget?
At the bottom end, you'll probably be paying around $120 for a vinyl cutting machine, and there is a chance you could pay a lot more, as you will see in the reviews later. It's a good idea to work out what your budget is likely to be early on, so that you have a good idea of what you can afford going in.
Using Software
To create the images, you will generally need a vector software of some kind. Go and look for one that you are likely going to be able to use, and spend some time getting used to it first. You need to be able to use it in such a way that you can create whatever images you want with ease. Otherwise, you won't be able to translate that on to the vinyl cutting machine to make your t-shirts.
Space & Size
Vinyl cutting machines can vary in size, so think about your setup and how much free space you are likely to have. If you fail to think about these kinds of things, it can mean you end up buying a vinyl cutting machine that doesn't fit in your home office or wherever you plan to use it, and that could make it completely pointless.
Shopping Around
You can think of your new vinyl cutting machine as an investment. As such, you need to make sure that you are shopping around for the best machine for your purposes. As you look through the following reviews, bear in mind that ultimately only you can know which is going to be right for you, and you need to make sure that you are remembering that at all times. Shop around, don't rush into buying anything until you are sure, and that way you will be much more likely to find great success with your choice of vinyl cutting machine.
The 10 Best Vinyl Cutting Machines For Beginners (my top selections)
1. Silhouette Portrait 2 Electronic Cutting Tool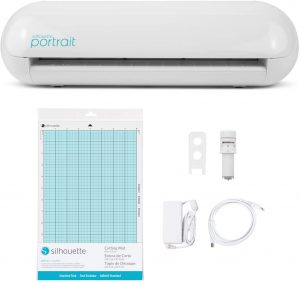 First up we have the Silhouette Portrait 2, which comes with Bluetooth as standard and also Autoblade, an adjustable cutting blade which ensures a truer cut. This cutting machine can actually cut a variety of materials, not just vinyl, including: fabric and heat transfers, paper, vellum, and even magnet paper.
It comes with Mac and PC software included as standard too, so everyone can use it straight out of the box. Plus, it has 50 original designs for you to use as well. It is a fairly compact option, coming in at around 18 x 8 x 9 inches, and it's an average price at about $171 in most cases. It's also quite light, at 3.52 pounds.
It can cut for material up to 8 inches wide and 10 feet long, so it is more than enough for any t-shirt designs you might want to do.
Pros
On the plus side:
Compact

Good value

Powerful

Easy to transport

No need for an internet connection

User-friendly software
Cons
On the downside:
Not perfect for bigger projects

Only good for beginners – might have to upgrade later

It comes with no instructions, so it might be difficult to use at first
Check Price
2. Cricut Joy Machine
Next up, let's look at the Cricut Joy Machine, a machine that prides itself on being portable above all and is perfect for quick vinyl projects such as t-shirts, especially for a beginner with little or no experience of these machines. It's also useful for making custom decals, should that be something you want to do, and it's slightly cheaper than the previous one at around $169 – although there is not much in it.
It is another compact machine, and is actually intended as a companion to the Cricut Air 2, a larger machine that you might already have heard of before. This is also a great option for custom label makers, and it comes with a free trial membership to Cricut Plus, which can prove to be very useful in many cases. The maximum material width is less than the previous machine, at only 5.5 inches.
Pros
The Cricut Joy machine has the following advantages:
Extremely compact

Affordable

Nice design to the machine

Quick and easy to set up and use
Cons
However:
Limited in what it can do at only 5.5 inches

Could get more for this money

Not great quality of finished product

Basic
Check Price
3. VEVOR Vinyl Cutter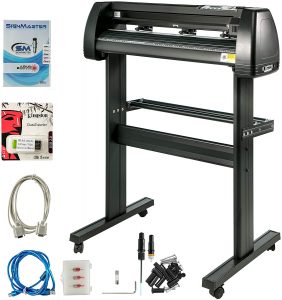 If you are looking for something a little more substantial, which is able to hack bigger projects than either of the previous two machines, you can find that with the VEVOR vinyl cutter machine. This is a 34-inch vinyl cutter, so you can clearly do more projects with it. It has a maximum paper feed of 870mm and even an adjustable speed – a feature lacking in many other cutters. There is also an emergency stop, making it one of the safer options out there in the marketplace.
It is a great choice for a wide variety of different applications, and its superior roller system makes it easy to adjust to whatever width you need for each job. It really is a strong all-rounder contender for best vinyl cutter machine of all.
Pros
Great cutting capacity

Highly adjustable

Good digital control options

Highly compatible

Easy to use

Professional

Precise

Sturdy floor stand
Cons
Drivers often out of date too fast for PC

Instructions not always clear

Sometimes produces jagged corners

Setup can be discouragingly challenging for some
Check Price
4. Brother ScanNCut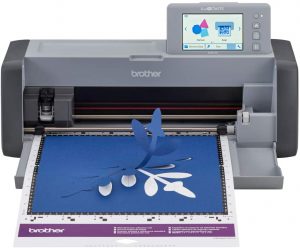 Brother is obviously a hugely respected technology company in many areas, and as such you know you will generally be able to trust them with a vinyl cutting machine too. This one really does look very much like one of their printers, and it even has the option to scan pictures for use in cutting. In fact, it is the only cutting machine in the world with a built-in scanner, and this is easily one of its main selling points.
Whether or not that justifies the $400 price tag is another question, however. This cutting machine can produce some amazing results, and it does come with an inclusive LED touch screen display, so it is slightly more upmarket than many of the other cutters listed here. It's definitely a good option if you are going to be doing a lot of vinyl cutting in the future, beyond merely casual purposes.
Pros
Professional

Many options

Touch screen display

In-built scanner

Easy set up and use

Auto blade
Cons
High price tag

No detailed manual included

Hard to find mats for it

Software is not hugely user-friendly
Check Price
5. Cricut 2005432 Easy Press 2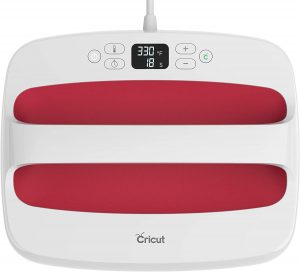 This is a compact, 9in x 9in machine, which makes it perfect for carrying out work on t-shirts and the like. You can use it to get professional iron-on results, and it will generally only ever take around 90 seconds or less, so it is a quick, cheap and cheerful kind of option. At $150 or so, it is not going to require a huge investment, and yet you might find you get a lot of use out of it in the long run.
It is also known for being easy to learn and use, and is probably overall one of the more user-friendly options on the market – a big selling point for any beginner. It also allows for precise temperature control, which is an option that not many other vinyl cutters actually have. It really is a great little all-rounder, and one to consider.
Pros
Lightweight and portable

Easy to use and setup

Simple manual usage

Can be used with a normal household iron

Fast

Cheap enough
Cons
Not suitable for bigger items or more serious projects

Adherence can sometimes be an issue

Smaller size can be limiting

Instructions aren't too clear for the beginner

Temperature can fluctuate too much at times
Check Price
Full Review
6. USCutter MH 34in Cutter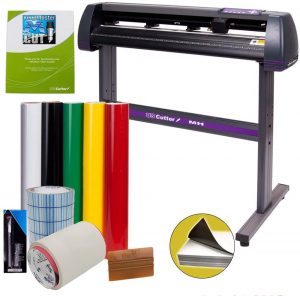 Although this cutter is billed primarily as a sign-making kit, it can also be used perfectly well for t-shirts and similar projects, if that is what you intend to use it for – and it could be a great choice for beginners too, as it is somewhat on the less expensive side and pretty straightforward to use. One thing it has going for it is this: it is actually the number one selling vinyl cutter in the US, and has been for 10 years. So you can be sure you are able to trust it pretty well with your vinyl cutting projects.
Known to be versatile and durable, this cutter can be used easily, and you also get free US-based tech support as part of it standard, which is going to make a huge difference to a lot of people keen to use it. You also get the vectoring software free with it when you buy it too.
Pros
Comes with plenty of attachments and a full bundle of useful tools

Big maximum length

Fast-working

Easy to set up and use

Plenty of support
Cons
Can't be used with Mac

No contour cutting

Sometimes doesn't track completely straight

Tech support is sometimes spotty or hard to contact
Check Price
7. Silhouette Cameo 4

This vinyl cutter is immediately arresting in its design – it looks sleek, it functions smoothly, and it is a decent medium-sized machine, so you can easily keep it in your home but also move it around freely should you want or need to. Plus, there is a roll feeder for easily cutting vinyl without trouble, and it is one of the ones in the market that works best. You can even use its Tool type detection, where the machine figures out which tool you are using and triggers the right studio settings automatically. Neat!
It comes with a specially reconfigured autoblade, and provides very smooth and intricate cuts as a result. At $300 or so it is fairly mid-range, but in general you will feel you are getting quite a lot for this amount of money. Plus, it has some of the most positive Amazon reviews of any vinyl cutter out there.
Pros
Adjust automatically

Provides a clean cut every time

Great trusted brand

Good value for money

Quick to operate
Cons
Doesn't cut through all materials with equal ease

Software can be buggy

Not hugely rich in different features

Bluetooth can be unreliable at times
Check Price
8. VEVOR 53 Inch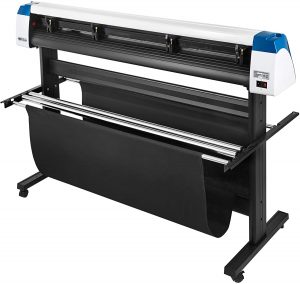 We have already looked at a previous VEVOR, and while you might assume that these can't differ much except in their maximum allowed size, actually that is not quite true. Indeed, this VEVOR vinyl cutter has a range of features you are not always going to find in other machines, including some other VEVOR models, and it is therefore one that you might want to keep an eye on.
It has an increased cutting capacity, a good strong stability, easy to use digital controls, and it is highly compatible and widely used around the world so you know you can trust it easily enough. All of that bodes very well indeed when you are choosing between vinyl cutters.
Beyond that, this VEVOR 53 inch has semi-automatic cutting, so it is easy and effective but you also get a huge amount of personal control over it, which can be very helpful in many cases. And it is a highly efficient machine on the whole, too.
Pros
This VEVOR is:
Extremely efficient

Easy to use

Sturdy and trustworthy in use

Triple-ported

All-rounder
Cons
However, on the flipside:
Not Mac-compatible

Some machines have better value for money

It is a cutter only, despite having printer in the name

Support is not great

No warranty
Check Price
9. USCutter 14″ Craft Vinyl Cutter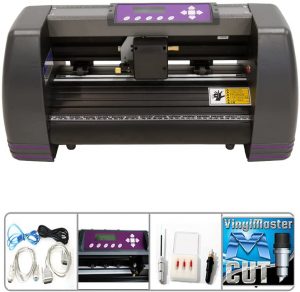 This is another one of those hugely trusted, best-selling options, and has been for a number of years. It's also got a maximum cut length of 8 feet, which you will find is more than enough for your beginner purposes of designing your own t-shirts. It is known as a brand for being incredibly versatile, as we discussed above, and this machine in particular offers more features than many other cutters, while also having a good degree of durability.
As with the other USCutter, with this one you get that great US-based support, and you are also going to find vectorizing and cutting software in the box included in the price – which is actually a very fair price, too. It only works with Windows, and it is not hugely portable, but it is a nifty little all-rounder that you certainly shouldn't be that disappointed with.
Pros
This USCutter has some strong benefits:
Trustworthy

Simple setup

Good value for money

Free software in the box

Full bundle with the machine too

Great for home crafts and simple designs especially
Cons
However:
Not as sturdy as some – with some customers complaining of broken parts

The rollers can leave tracks on the vinyl

Bundle is not always on promotion, so you might miss out

Noisy during use

Only for Windows
Check Price
10. Aonesy Heat Press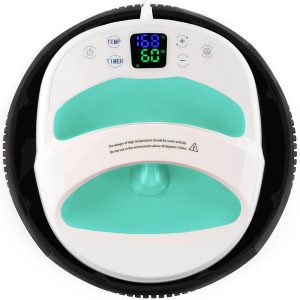 Finally, we have the Aonesy heat press machine, a vinyl cutter that is designed specifically for use for t-shirts. If you are looking for the ideal t-shirt vinyl cutter, you will certainly want to consider this possibility. It is an easy press sublimation option, very compact and portable at only 12×10 in, and one of the more affordable vinyl cutters on the market. It actually proves to be a very popular vinyl cutter all round, so it's one to keep an eye on.
Above all, it provides a stable pressure and even temperature, which many do not, and it is known to be a very safe option too. It's a great all-rounder that you should definitely consider strongly in your shopping around.
Pros
The Aonesy heat press has these ups:
Ceramic-coated for extra safety

Sweet and simple, works well

Great value for money

Automatic shut-off for efficiency and safety
Cons
And these downs:
No good for any larger projects

Not as sturdy as some

No warranty
Check Price
Conclusion
As you can see, there are some great vinyl cutting machines out there, so be sure to choose carefully when you are shopping around. Don't just go for price either. Especially for beginners, you need to think about exactly what you're getting a cutting machine for, and not just what fits within your budget (or doesn't). 
If you enjoyed this guide you may also like the guide to the best heat press machines for t-shirts.