Are you looking for the best digital heat press machine?
Here we're going to take a look at 10 of the best out there so you can make the right decision for your needs. Some come with instructions, some don't, and some require more strength than others to use, however; each machine on this list is a great choice for different reasons. Read on to find your perfect digital heat press machine. 
1. Tangkula 6 in 1 Heat Press Machine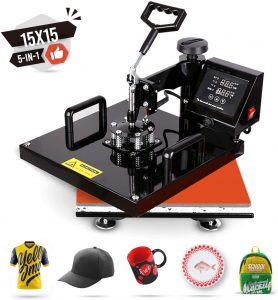 This heat press machine is just perfect to transfer letters, images, and numbers onto T-shirts. You can also use it for caps, hats, plates, mugs and more. The machine is so much fun to use once you have the hang of it and you can get seriously creative with it! 
Notable features: 
Hi-tech Microprocessor Program Control

Automatic Digital Timer & Self-clocking Alarm

Power and Dimension – 10 V power, which is US-standard grounded plug, and wattage is up to 1050W. Dimension of main heating plate is 15'' x 12″

Dual Safety Protection

6in1 Multifunctional heat press machine
Ultimately, this 6in1 multifunctional heat press machine is a brilliant product for business or home use, and you can't get much more for the price as it is extremely affordable! You'll have so much fun letting your creativity run wild making just about any item of your choosing. 
Check Price
2. ePhoto New Digital 15″ x 15″ T-Shirt Heat Transfer Press 
This is another reliable heat press machine that can be used for a variety of purposes. A new teflon sheet is also included so that you can ensure the best finish on each of your designs. 
Notable features:
Voltage:110V Power: 1400W Heat Press size: 15″ x 15″

Teflon sheet included

Fully equipped with latest digital Temperature and Time Display Controller

Easy to use – take out of the box and go 
This machine arrives fully assembled and ready to use out of the box so you can start having fun with it right away. The machine is easy to use so there's no guesswork on your part. It is so much better to use than a regular iron, as an iron would not be able to reach the temperature and high pressure needed to sustain your chosen design. This one is ideal for T-shirts, garments, bags, mouse mats, jigsaw puzzles, ceramic tiles, plates and other flat surfaced items.
You do really need to make sure you put the pressure on with this digital heat press machine, but once you do, your designs will be perfect. When you get the hang of it, you'll be glad you bought it. 
Check Price
Full Review
3. CO-Z 110V Heat Press 360 Degree Press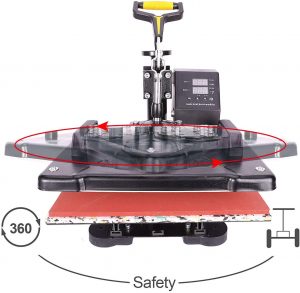 This machine is FCC certified for unparalleled safety and quality, and comes with a revolutionary alloy rail for easy transition among cup, hat and plate heat press cushion. You know you're getting a great machine when you choose this one. The anti-skid yellow handle made of rubber provides comfort as the machine is in use, so you can use it time after time without injury or problems. 
Notable features:
360 degree swivel

Comes with the press for caps, two plates for two different sizes

Ease of use

Comes ready assembled for fast set up
This machine can be ready to use in 10 minutes so you can begin making mugs, t-shirts, and puzzles to your heart's content in no time at all. You may need to practice using an old t-shirt before you get the hang of it, but once you do, it could make the perfect accompaniment for your business or home craft studio. 
Check Price
4. Nurxiovo 12×10 Heat Press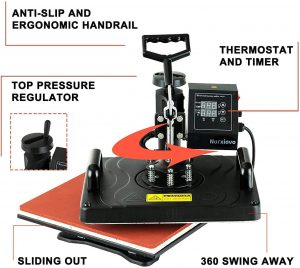 This is a t-shirt press perfect for beginners and even those who are more experienced who want to start their own T-shirt business. It also makes a good assistant at festivals' large marketplace, allowing you to increase your profits! If you've never used a heat press machine before then this might be the right choice for you. 
Notable features:
Adjustable temperature ranges from 32°F to 482°F and adjustable time of up to 999 seconds enhances versatility

Ease of use 

Thicker heating platen boosts better heat retention and even pressure distribution once closed

Heavy-duty steel frame ensures long lifespan

A pressure adjustment knob lets you adjust the pressure

Digital LCD accurately controls the time and temperature

Swing away design promises safety and comfort when using
With the 360 degrees swivel function, you will avoid injury and be able to make your items with total peace of mind. It also helps to save space when storing the machine away. Use it to your heart's content to create bags, mouse pads, t-shirts, and other flat surface items. 
Check Price
5. Fancierstudio Power Press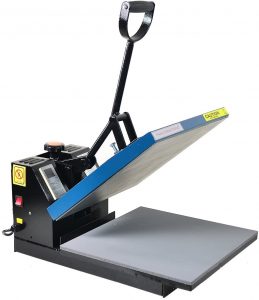 This machine comes with a heat press sheet included so that you can protect your designs and get the best results, and is an extremely affordable option for those who may be starting their own business but want to save money. Startups can be very expensive, and you usually need money in reserve just in case.
With this affordable heat press machine you won't need to worry about blowing all of your cash on your business! This one is one of the most affordable on the market yet still does a great job. You can press baby clothes, headbands, hats, t-shirts, and more with great success! 
Notable features:
Ease of use 

Affordable

Almost ready to use right out of the box 

15 minutes heat up 
This is a big press, but is not huge. You can easily find a place for it or store it away if you need to. Once you figure out how much tension you need when pressing, it's the perfect heat press machine and can be used time and time again for your creations! 
Check Price
Full Review
6. PowerPress Sublimation Heat Press Machine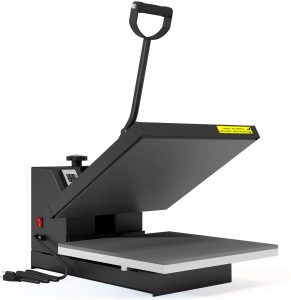 This digital heat press machine is a little difficult to open and close in the beginning, but once you have practiced this a few times you should get the hang of it. This is the only downside – if you are a petite person you may need to get somebody to help you with the machine in the beginning. You could potentially try WD40 to help save major workouts in the beginning if you don't have anybody to help you. 
Notable features include 
Heating Plate: Heat Press 15×15 inch. Voltage: 110V. Power: 1400 W

Silicon Gel Base Board. Pressure adjustable

Teflon coated heating plate

Convenient to clean 

Instructions for easy start up
Many presses do not come with instructions to help you set up and start using the machine, but this one does. It works flawlessly providing you follow the instructions to the letter, but you should not rush. Make sure the machine is hot enough before you use it.
That is the one golden rule of using any heat press machine, not just this one: it needs to be given time to heat up. The swing arm is very useful for making sure you don't get burned while the t-shirt is in position. A worthwhile option whether for professional or personal use. 
Check Price
Full Review
7. F2C Pro 5 in 1 Combo Heat Press Machine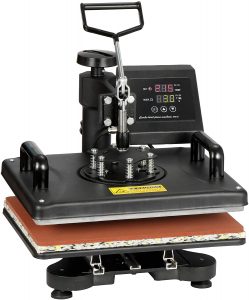 This heat press machine is a high quality option that has a full 360 degree rotation and swing away design for safety and comfort, as well as various uses that allow you to get creative at home. The machine is large (12″ x 15″), which provides a big surface to create your own custom T-shirts and many other items. However, it is not too large to store away. 
Notable features:
Affordable price 

Plate heats thoroughly for high quality printing

Useful manual outlining how to use machine (not all presses come with a manual)

A 5 in one multifunctional machine that comes with various attachments
Overall, this press is affordable and reliable. You can also trust this press to continue working long after purchase – it won't break on you after a few uses, and many buyers report being happy with their press over a year later. This is also a great press for pressing your dress shirts if you need to get them perfect, so there are multiple uses. You can definitely justify this purchase! 
Check Price
Full Review
8. PlanetFlame Factory CE 12 x 15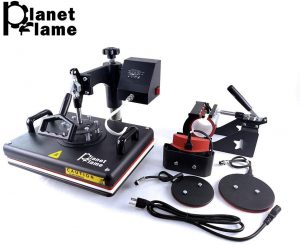 This is an impressive digital heat press machine that comes with many attachments for different purposes. These are extremely easy to change up, and there are many Youtube videos that you can peruse to help you get started with the machine right away. 
Notable features:
Removable top t-shirt heat plate so you can easily swap to another attachment

Included screwdriver/wrench tool 
You may want to tighten the screws that attach the heat plate to the swing arm before you begin. There's an included screwdriver/wrench tool that you can use to do this, making it even easier. This machine is sure to make your life so much easier – you might even be tempted to get rid of your old iron altogether.
You can create whatever you like very quickly and make sure all of your clothes are ironed in a jiffy. The machine does not come with instructions, but it is pretty easy to figure out once you have had a look at all of the bits and pieces. Just ensure you take precautions if you're going to use this machine around children – the burns could be severe. 
Check Price
9. VEVOR Heat Press 12 x 15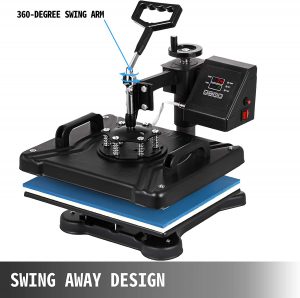 This is a useful, 5 in 1 heat press machine that you can use to create caps, t-shirts, ceramic tiles, mugs, coasters, and anything else you can dream up. It can even be effective when using it on materials such as cotton, flax, chemical fiber, nylon, etc. Many choose to use this digital press to make medals, cards, and similar items. You can also use this item to replace traditional embroidery and screen printing in an extremely cost effective manner. 
Notable features
Easy to assemble

Easy to use 

Can use on a variety of materials 
The one thing you must make sure of with this heat press is that the plug is pushed in tight before use. Many complain that the plug does not push in properly, but by making sure you have done this properly you will see that the plug was just a little tight. 
You should have no issues of junk sticking to the heat plate if used correctly. You can use both parchment paper and a teflon sheet to get the results you want, but the heat will need to be adjusted accordingly. 
Check Price
Full Review
10. Cricut EasyPress 2 9 x 9 Heat Press Machine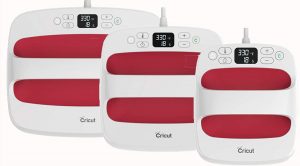 This heat press machine is lightweight, portable, easy to store and even comes with cool packaging. It's suitable for home ironing transfer, but can also be used in commercial businesses. The dual-purpose heat press can iron clothes and Cater for DIY using transfer paper and transfer vinyls. 
Notable features: 
Overload protection

Takes just 5 minutes to heat up and use 

Comes with a teflon sheet and heat protection pad 
As with any new piece of equipment like this, it's advisable you practice using the machine first. It should not take long to get the hang of and soon, you'll be able to make a multitude of items that suit your needs and tastes. The only thing you will notice about this machine is that it can smell a little burnt while warming up. It's advisable you use this in a spare room or garage where the smell doesn't matter too much. 
Overall, the press is very easy to operate and works great even when layering vinyl. It's a great purchase for those who want to get started printing t-shirts, caps, and other items at home. 
Check Price
Full Review
Conclusion
A digital heat press is the type of press that brings the old era into the new, utilising age-old pressing techniques with a digital interface. This makes the presses great for people of all experiences, and the added benefits of digital screening means that you'll never have to guess any timings again.
If you find this guide helpful, you might also enjoy the FreeFreeHand guide to the best heat presses, ever.