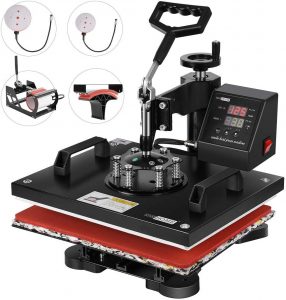 Wondering if a 5-in-1 press is the type of heat press machine you need?
Are you interested in buying the VivoHome 5-in-1 swing-away clamshell heat press? Then you have come to the right place. Here you can find out everything you need to know about the heat press while also being able to find out what the pros and cons are.
The Heat Press from VivoHome
The heat press in this review is brought to you by Vivohome.  It's got a 360 degree level of rotation and it's got a swing-away and guide rail design as well. The heat press machine is able to provide you with a full range of press evenly, and this will guarantee the overall quality of the finished transfer. Another thing that you should know about this device is that it has a dual integrated LED display and the controller also gives you the chance to pre-set the temperature with a countdown function. This is especially useful if you have a lot of things to press, as it gives you the chance to prepare the next one while the first is in the machine.
This heat press comes in a complete kit, providing you with 5 different options when it comes to your transfers. You can press anything from numbers to letters and even images too. You can do this onto ceramic tiles, mugs, coasters, caps and t-shirts too.  If you want some quick pros of using this product then you can find out whatever you need to know, right below.
Pros
Some of the pros of using this product include the fact that it has a non-stick Teflon coating. The maximum heat that this product can go up to is around 250°C and it is fully customisable and adjustable as well, so you can really work with anything you want. This is ideal if you are trying to print things for your business or even if you want to try and create a lot of products in a very short space of time. Other pros include the fact that the device is very sturdy and that it is really made to last. You won't need to worry about it wearing out or not lasting you as long as some of the other heat presses out there.
Cons
A lot of people report that the device is stiff to turn on and adjust, but other people say that it is absolutely fine. A lot of this probably comes down to people not knowing how to adjust the gauges and knobs in an attempt to raise the plate. If you are thinking about buying this product then that is something that you need to make sure that you keep in mind. If you don't then you may have a hard time.
Another issue is that the device's plug can be loose sometimes, so you need to make sure that it is fully plugged in to avoid any power issues. This is a very simple check and it can easily be done to make sure that your device is working properly.
Check Price