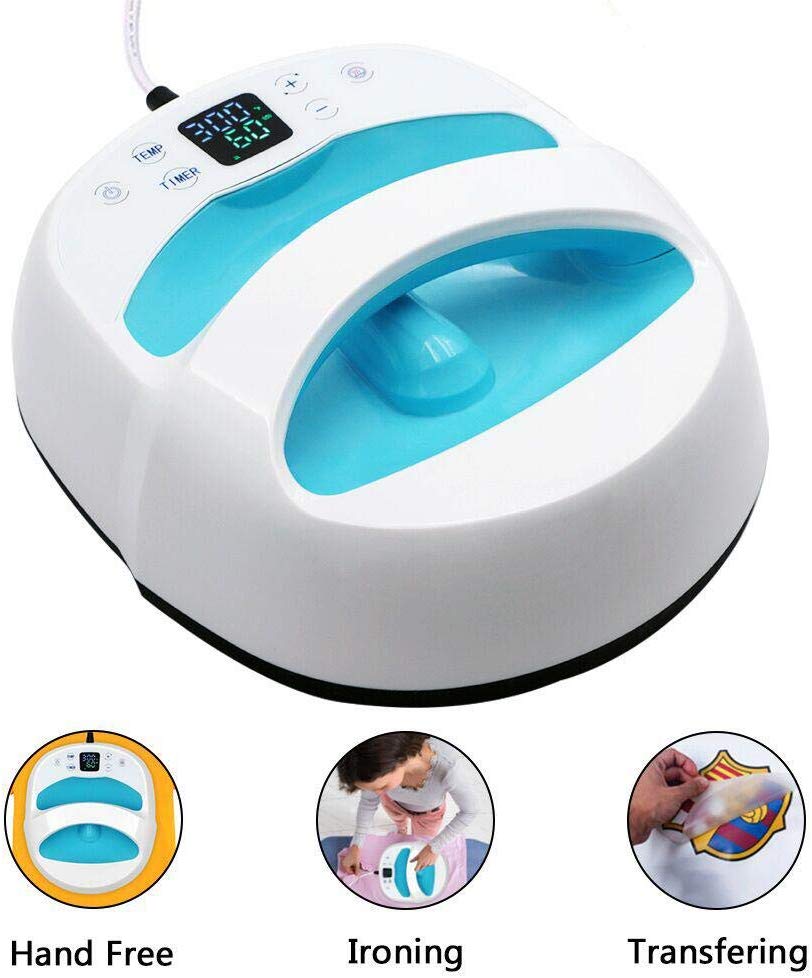 Is the 'Easy' heat press really as easy to use as the name says? We see if this press truly is made with the beginner in mind
Features
If you are looking for a handy heat press that is also a convenient iron to have at home, then you are in luck. 
Featuring heat plates of 12 x 10, the larger size allows you to not only make great t-shirts but also makes it suitable for larger pieces of clothing and materials such as sweaters, blankets and banners. The comfortable handle eases operation and prevents heat from being felt even after 2 hours at a continuous temperature of 570°F.
While this press machine comes in a large size, it has an extremely lightweight and compact design and weighs only 8lbs, making it portable and allows you to carry and store it with ease. It also comes with an insulated heat safety base to protect your surfaces and provide you with ultimate safety.
The LCD touch screen control panel helps you to better control the heat-press process by letting you know the countdown time and temperature in real-time and is equipped with a safe anti-overheating system which makes it the perfect heat press for beginners. The advanced heat plate design features three layers of heat-resistant construction which insulates the external casing from heat and includes a shutoff function for overheating, keeping your craft project safe from burning or catching fire.
Featuring a handy hands-free function, the Weanas easy heat press machine also saves you time, meaning that you don't have to continually press, once setting your chosen time and temperature. This allows you to get on with other tasks in the meantime, safely. 
Lightweight and stylish in appearance, this practical heat press offers dual-functionality and can also be used as an iron allowing you to have an economically friendly two-in-one. 
Not only suitable for ironing transfers, the dual-purpose heat press can also be used to print sublimation paper to satisfy all your DIY and craft-making needs.
Pros
Fast and easy to use, it's got everything that a beginner needs to make the perfect t-shirt for your friends and family. 

Due to its superior quality and hands-free function, you won't even have to overthink how to use it, giving you more time to get the perfect heat press. 

Perfect for thermal sticker transfer, it can also print onto sublimation paper, while the safety features are a fantastic reassurance to any newbie.  

Lightweight and easy to carry, other pro's include it's dual functionality, as this heat press is also an effective iron making it economically friendly for home use. 
Cons
While this heat press overall is an easy to use and effective machine, there are three small con's that you may want to consider before purchasing. 

The insulated base that the iron sits on has to be assembled by hand, and there have been some complaints about it falling apart. The screws and screwdriver, however, are provided. 

For an iron, it is quite large, which potentially makes it hard to iron out any smaller and more fiddly and specific areas on your garments such as collars, ruffles and pleats. 

Lastly, this heat press is not suitable for vinyl material which may be a con for some. 
Conclusion  
We'll be the first to admit that the Weanas easy press is not the most versatile of presses. And, just by looking at it, you can tell that it isn't exactly stacked with features. But, if you're literally a beginner looking for an incredibly safe and portable press that won't cost a fortune, then the easy press is legitimately up there with the best of them.
Check Price